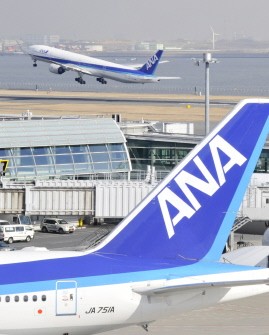 An All Nippon Airways (ANA) jetliner takes off from Tokyo's Haneda airport on January 29, 2010. (AFP photo)
TOKYO, Jan 29, 2010 (AFP) - Japan's second-largest carrier, All Nippon Airways (ANA), said Friday it had posted a 391 million dollar net loss for the nine months to December, blaming the global downturn.
Looking ahead, ANA said "the environment remains challenging, and the airline sector continues to face difficult times."
Its top competitor, debt-laden Japan Airlines (JAL), this month filed for bankruptcy, had its shares delisted and prepared for painful restructuring under a new corporate chief with more than 15,000 job cuts planned.
ANA said it booked a net loss of 35.19 billion yen (391 million dollars) for the nine month period, compared to a net profit of 9.42 billion yen during the same time the previous year.
The operating loss was 37.81 billion yen as sales dropped 16.6 percent year-on-year to 923.76 trillion yen.
"The business downturn which has persisted since the second half of the last fiscal year has been continuing, and passenger demand is taking longer than expected to recover," ANA said in a statement.
On a more positive note it said "for international flights there were signs of a recovery in business demand as well as leisure demand, and the sluggish demand for domestic flights seems to have hit bottom."
The business environment remained difficult due to high oil prices, volatile foreign exchange rates and deflationary pressures in Japan, it said.
Revenue from domestic passenger flights dropped 12.5 percent to 480.5 billion yen in the nine months, while sales on international routes plunged 34.6 percent to 156.5 billion yen.
ANA kept unchanged its forecast for the full year to March, expecting a net loss of 28 billion yen, and an operating loss of 20 billion yen on sales of 1.26 trillion yen, down 9.5 percent from the past year.
The airline has announced it will cut its back-office workforce by 20 percent by March 2012 as part of its streamlining efforts.