Japan on Wednesday posted a bigger-than-expected trade deficit in April, as surging energy costs pushed up imports while shipments to China -- its biggest market -- fell from a year ago.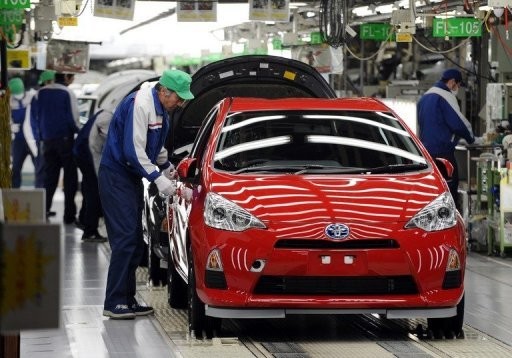 File photo shows workers making final checks on Toyota's compact hybrid vehicle AQUA on its assembly line in Tokyo.
The monthly deficit of 520.3 billion yen ($6.5 billion), was larger than the 477.7 billion yen in the same month a year ago and the highest ever for April.
However, despite concerns over the debt crisis gripping Europe and the impact of the stronger yen on exporters the Bank of Japan held off relaxing monetary policy further.
Japan has switched off its nuclear reactors following last year's quake-tsunami disaster, which sparked the worst atomic crisis in a generation and pounded the world's third-largest economy.
The policy has forced the resource-poor nation to adopt pricey fossil fuel alternatives, helping to push up April imports, which rose 8.0 percent to 6.09 trillion yen.
Exports also rose in the period, gaining 7.9 percent from a year earlier to 5.57 trillion yen, thanks to shipments of automobiles and vehicle parts, with US-bound trade jumping from a year earlier.
The deficit, the second straight on-year monthly shortfall, outpaced analyst expectations of 470 billion yen, with Hideki Matsumura, senior economist at the Japan Research Institute, saying weakening exports to China were a concern.
"The growth in exports will depend on overseas economies... and exports may continue to weaken," Matsumura told Dow Jones Newswires.
"The US economy seems to be recovering somewhat, but China seems to be slowing."
Japan had a 274.2 billion yen trade deficit with its Asian neighbour, which overtook it as the world's second-biggest economy in 2010, as exports fell 7.1 percent, the seventh consecutive month of year-on-year drops.
Concerns over China's slowing growth have intensified after a recent slew of weak economic data, including a report that showed output from the country's millions of factories and workshops hit a near three-year low in April.
Japan saw a trade surplus of 425.8 billion yen with the United States, a 165 percent year-on-year increase, but shipments to debt-hit Europe, another key export market, fell 1.9 percent while imports from the continent fell 4.2 percent.
Analysts have warned that high prices for liquefied natural gas and rising imports in Japan, beset by a rapidly ageing population and shrinking manufacturing sector, were likely to generate trade deficits throughout 2012.
The downbeat data came a day after Fitch cut Japan's sovereign credit rating, and warned of another possible downgrade if Tokyo does not hasten its bid to shrink a national debt that stands at more than twice its gross domestic product -- the highest ratio among industrialised nations.
The Bank of Japan later said after a policy setting meeting it would keep interest rates at zero to 0.1 percent but did not announce any plans to raise its asset purchase scheme -- the main tool of monetary easing -- from the current 70 trillion yen.
"Japan's economy is expected to return to a moderate recovery path as the pace of recovery in overseas economies picks up... and as reconstruction-related demand after the (March 2011) earthquake disaster gradually strengthens."
However it also warned that "there remains a high degree of uncertainty about the global economy, including the prospects for the European debt problem" and the speed of a US economic recovery.
But Japanese Finance Minister Jun Azumi said he expects the bank to usher in fresh easing at a later date.
"I am expecting that (BoJ) will further ease policy appropriately and flexibly at the right time to meet the (government's) 1.0 percent" inflation goal, Azumi told a parliamentary session.