Japan's defeated prime minister Taro Aso left office with a mixture of pride and regret on Wednesday, urging his successor to revive the economy and ensure national security.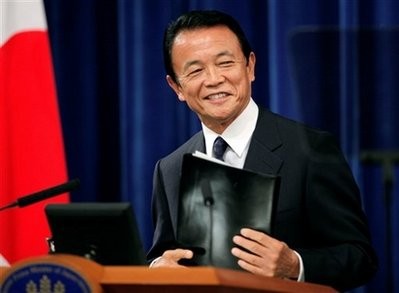 Japanese Prime Minister Taro Aso leaves his final news conference as prime minister at the official residence in Tokyo Wednesday, Sept. 16, 2009
"I think I can be proud of carrying out drastic economic measures," the outgoing conservative leader said, speaking in his trademark husky voice at the last news conference of his year-long leadership.
"I did my best for the sake of Japan, in a very short period... but unfortunately, I am stepping down halfway through," said Aso, dressed in a dark suit and speaking without betraying much emotion.
His cabinet resigned early Wednesday, paving the way for the launch of a centre-left government that ended more than half a century of almost uninterrupted rule by Aso's Liberal Democratic Party on August 30.
"I hope (the new government) will make an effort to consolidate the economic recovery," Aso said. The economy has officially emerged from its worst recession since World War II, but unemployment remains a record high.
"I also sincerely hope that it will take appropriate action against terrorism, piracy and on other international issues," Aso said, referring to Japan's naval missions supporting US-led operations in Afghanistan and multinational anti-piracy policing off Somalia.
"Japan is facing many difficult problems, but I'm confident Japan will never fail if there is appropriate government leadership and effort by the people."
Yukio Hatoyama, head of the centre-left Democratic Party of Japan, was to be voted in as prime minister later Wednesday, two and a half weeks after his party's stunning election victory.
While Aso may be remembered by some as the unpopular, gaffe-prone politician who led his party to a historic defeat, a dozen of his supporters, gathering in front of the prime minister's office, defended the outgoing leader.
"Thanks to Prime Minister Aso's economic policies, Japan was able to scrape through and survive," said Yuko Tanaka, a 46-year-old Tokyo housewife waving the Japanese national flag.
"Prime Minister Aso is a politician with a sad fate because he had the misfortune of taking office at such a tough time," Tanaka said. "I hope he will return to the prime minister's residence in the near future."