TOKYO, Dec 14, 2009 (AFP) - Japan's business confidence has improved for a third straight quarter but firms plan to slash investment to cope with the fallout of the worst recession in decades, the central bank said Monday.
Sentiment among major manufacturers rose to a better-than-expected reading of minus 24 in December -- the best level in a year -- from minus 33 in September, according to the bank's Tankan survey of more than 10,000 firms.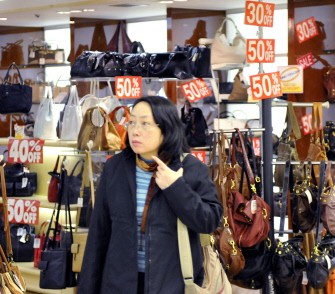 A woman walks past a luggage shop with sales signs in Tokyo on December 14, 2009. (AFP photo)
The index, which measures the percentage of firms that think business conditions are good minus those that believe they are bad, hit a record low of minus 58 in March.
Sentiment among big non-manufacturers improved to minus 22 in December from minus 24 in September.
"Companies don't expect any double dip recession into next year," said Susumu Kato, chief economist for Japan at Calyon Credit Agricole CIB.
Large manufacturing companies appear to be coping relatively well, despite the recent strength of the yen, he noted.
But while the mood is slightly less gloomy, companies are stepping up their planned cutbacks in spending on plants and equipment, which is likely to hobble an economy struggling to return to sustainable growth.
"The data may show signs of an improvement. But the reality is that the outlook remains severe," said Chief Cabinet Secretary Hirofumi Hirano, the top government spokesman. "We will continue to carefully monitor the situation."
Large manufacturers plan to slash their capital investment by a record 28.2 percent in the year through March 2010 compared with the previous year, even more than previously anticipated, the Bank of Japan reported.
The profit outlook also remains bleak, with the major manufacturers forecasting a 34.7 percent drop in pre-tax earnings for the current financial year to March, after a 61.9 percent plunge last year.
Even so, the Tankan found that big manufacturers expect sentiment to continue to improve, forecasting a sentiment rating of minus 18 for March.
"Despite the yen's rise, Japanese manufacturers' business continues to improve on the back of recoveries in overseas economies such as China and the US," said Naoki Murakami, chief economist at Monex Securities.
"Japan's economy is likely to avoid a double-dip."
Japan's big exporters such as Sony and Toyota were a key driver of growth in Asia's largest economy before the global economic crisis erupted.
Now many companies are cutting back their investment in an effort to recover from heavy financial losses inflicted by slumping sales and a soaring yen, which has dented their profits from crucial overseas markets.
Japan's economy returned to positive growth in this year's second quarter after a severe year-long recession.
But the government reported last week that the world's number-two economy grew at a much slower rate than previously thought in the third quarter, re-igniting fears that the fledgling recovery could stall.
Japan's government recently announced a fresh economic stimulus package of 274 billion dollars, including 80 billion dollars in new spending, to ward off a potential double-dip recession.
The Bank of Japan also announced this month it would pump more than 100 billion dollars into the financial system to fight deflation.
While the central bank is winding down some of its extraordinary steps to tackle the economic downturn, it is expected to maintain a highly stimulative monetary policy for some time yet to support the fragile economic recovery.
The BoJ is unlikely to raise its super-low interest rates from the current level of 0.1 percent before the middle of 2011, Calyon's Kato said.
Investors reacted cautiously to the latest snapshot of Japan's economy, with the Nikkei-225 stock index ending down 0.02 percent.