Japan's newly empowered Democratic Party said Tuesday that it was ready to do battle with the mighty state bureaucrats to reduce their tight grip over the world's number two economy.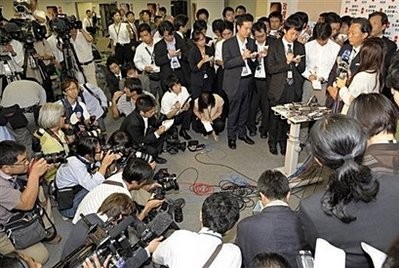 Democratic Party of Japan leader Yukio Hatoyama (top right) attends a press conference at the party headquarters in Tokyo. (AFP Photo)
The centre-left Democratic Party of Japan (DPJ), which scored a landslide victory in Sunday's general election, has made wresting power from civil servants one of its main policy goals.
"The bureaucracy is using politicians now," DPJ lawmaker Jin Matsubara said on the private TV Asahi network, deploring the practice of politicians rubber-stamping decisions by unelected officials.
Matsubara argued bureaucrats are so specialised and focused on their fields of work and the interests of their ministries that they often fail to have a comprehensive view of what would benefit ordinary people.
"There is a saying 'specialty fool'. We shouldn't be like that," he said.
Political observers say Japan's 360,000 state bureaucrats wield far greater clout than their peers in other democracies when it comes to steering policy.
The heads of ministries, who carry the rank of vice minister, are often considered more powerful than the politicians whom they ostensibly serve.
When the top bureaucrats retire, they tend to parachute into cushy jobs in the companies and agencies they formerly supervised -- a practice that critics say encourages corruption.
Premier-in-waiting Yukio Hatoyama has pledged to deploy 100 lawmakers to supervise ministries and, crucially, wrest back control of the budget process from the finance ministry.
"So far, the finance ministry has stapled together budget requests from individual ministries and agencies and then the cabinet rubber stamps it," said the deputy head of the DPJ policy research panel, Renho, an upper-house member who goes by one name.
From now on a new National Strategy Bureau would set policies and help draft the national budget under the premier's control, she said.
The DPJ has pledged direct cash handouts to families with small children and subsidies to farmers rather than aid money channelled though organisations run by former bureaucrats.
Rather than raising taxes, the DPJ proposes funding its measures to boost household incomes by cutting wasteful government spending on public works projects and a bloated bureaucracy.