Japan's economy expanded in the third quarter as car buyers rushed to make the most of expiring subsidies and smokers scrambled to beat a tax hike, data showed Monday, but analysts warned of risks ahead.
A particularly hot summer, which saw record-breaking temperatures, also drove sales of items such as air conditioners during the period, helping drive growth, analysts said.
But there were warnings of a looming payback in the fourth quarter in the absence of such one-off factors, amid growing fears Japan could be facing a slide back towards recession.
The economy grew at an annualised pace of 3.9 percent in the July-September period, compared to the previous quarter's revised 1.8 percent growth. Monday's data beat market expectations of 2.5 percent.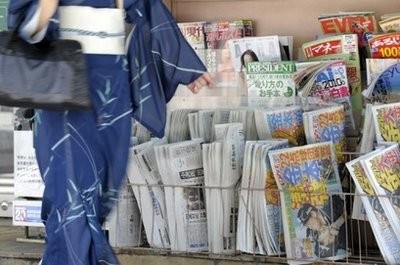 A woman passes in front of a newspaper stand in central Tokyo.
On a quarterly basis the economy grew 0.9 percent, compared to 0.4 percent.
Japan's fourth straight quarter of expansion was driven by a consumer rush to make the most of government subsidies for car buyers before they expired in September and a surge in cigarette sales before a new tobacco tax was levied.
Private consumer spending, which accounts for nearly two-thirds of Japan's gross domestic product, was up 1.1 percent on-quarter in the period. It was up a revised 0.1 percent in the previous quarter.
"The positive reading is purely thanks to a big growth in consumption in the private sector," said Taro Saito, a senior economist at NLI Research Institute.
"An end to the government's subsidies programme for environmentally friendly cars as well as a tax hike on cigarettes encouraged last-minute shopping, raising individual consumption."
Without the boost in the next quarter, consumption is likely to be much lower, analysts say. The third quarter data was "good due to stimulus steroids: Q4 will stink without them," said Nicholas Smith of MF Global FXA Securities.
Japan's export-led recovery has continued to lose steam recently, with industrial production falling for the fourth month running in September and export growth slowing.
"The profile of the recent monthly data suggests that the economy will contract again in the fourth quarter," consultancy Capital Economics said in a recent report.
Consumer prices continue to slide with Japan mired in crippling deflation.
The yen has been trading at 15-year highs against the dollar, hammering the competitiveness of the crucial export sector despite Tokyo's first intervention for six years in September.
A strong yen not only makes Japan's growth-driving exports more expensive but erodes companies' overseas profits when repatriated, with many firms considering sending more production overseas as a result.
It also makes imports cheaper, prolonging a demand-sapping cycle of deflation. Japanese consumers have been holding off on purchases in the hope of further price drops, clouding future corporate investment.
Monday's data showed growth in business spending fell to 0.8 percent from 1.8 percent on-quarter, its slowest this year.
The Bank of Japan has adopted a near zero rate policy and has announced an asset purchase scheme in an effort to lower borrowing costs and tackle deflation, but there is little optimism the measures will be enough.
Japan's cabinet last month approved an extra budget to cover a new stimulus package worth about 5.1 trillion yen (62 billion dollars) to avert what the government called the threat of a "double-dip recession".
But its fate depends on whether Prime Minister Naoto Kan's ruling party can pass it in parliament where it lacks a clear majority.
Kan came to power promising to slash spending and work towards cutting the world's biggest industrialised debt, at 200 percent of gross domestic product, and has vowed not to issue new debt to pay for the new stimulus measures.
But Japan's malaise has complicated Kan's ambitions. In October the government downgraded its view of the economy for the first time since February 2009.