Japanese Prime Minister Taro Aso, reeling from a key poll defeat, has drawn the battle lines for an August snap election that could herald a major political upheaval in the world's number two economy.
Aso's party faces the prospect of being swept from power after half a century of almost unbroken rule as voters flock to the opposition amid anger over his handling of the recession and policy flip-flops, experts said.
The 68-year-old premier, whose Liberal Democratic Party (LDP) suffered a drubbing in Sunday's Tokyo metropolitan election, will hold a nationwide vote on August 30, his election bureau chief, Makoto Koga, told reporters.
Aso's popularity has sunk since he took office a year ago and his party has been in open disarray, with some of his own lawmakers calling for a new leader.
The weekend poll defeat was seen as likely to increase internal pressure on Aso to quit, but the blue-blooded conservative, whose grandfather was one of Japan's most influential prime ministers, was determined to fight on.
Analysts said that even if the LDP dumped Aso as leader, its chances of holding on to power would be dim.
"I believe it's near 100 percent certain that (the LDP) would be defeated if the election were held now," said Takayoshi Shibata, a professor emeritus of politics at Tokyo Keizai University.
"It's too late to do anything. They can only brace themselves for defeat. It would be no use if they changed the face of their leader."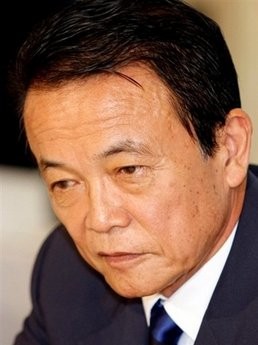 Japanese Prime Minister Taro Aso (pictured), reeling from a key poll defeat.
The LDP won 38 seats in the weekend vote in Tokyo while its coalition partner New Komeito took 23, leaving the ruling bloc three seats short of the 64 needed for a majority.
The main opposition Democratic Party of Japan won 54 seats to become the largest party in the Tokyo assembly for the first time, while the remaining 12 seats went to other opposition and independent candidates.
"The results were severe," said Chief Cabinet Secretary Takeo Kawamura, the top government spokesman. "It was a local election but we have to sincerely accept the results."
The opposition, which controls the upper house, said it would submit a motion of no-confidence against Aso in parliament on Monday.
"With this result, Tokyo residents said 'No' to the LDP and New Komeito," said Naoto Kan, deputy president of the DPJ.
Aso's decision to hold an election next month was seen as an attempt to fend off calls from within his party to resign as party leader. The national poll must be held no later than October 20.
Since taking power in 1955, the LDP has ruled Japan continuously except for one 10-month stretch, guiding the nation from the post-war gloom through its "economic miracle" to become the world's second-biggest economy.
Aso, a former diamond trader, took office last September with a mission to revive the LDP ahead of general elections. The one-time Olympic marksman is Japan's third premier since the popular Junichiro Koizumi stepped down in 2006.
His approval ratings have tumbled over a series of ministerial resignations and concern about his economic stewardship during Japan's worst recession since World War II, dipping below 20 percent in recent surveys.
At a time when many ordinary Japanese were losing their jobs, Aso's frequent visits to swanky hotel bars irked many voters.
The DPJ for its part has promised to take a middle road between a welfare state and a free market system, creating a more inclusive society and reducing the power of bureaucrats.
But the centrist party, which draws its members from a diverse band ranging from LDP defectors to socialists, has never run a government.