TOKYO, Aug 28, 2009 (AFP) - Japan announced Friday its jobless rate hit a record high last month, raising doubts about prospects for an economic recovery and dealing a blow to Prime Minister Taro Aso ahead of a weekend election.
Worries about deflation also deepened after consumer prices fell at the steepest ever pace and consumer spending declined, highlighting the economy's fragile state despite its return to positive growth in the second quarter.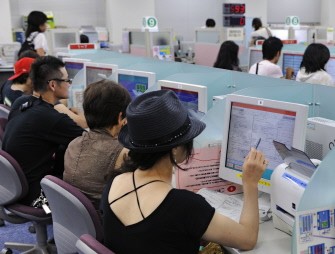 Unemployed Japanese people search through job vacancies at an employment bureau in Tokyo on August 28, 2009 (AFP photo)
The jobless rate rose to a worse than expected 5.7 percent in July, up from 5.4 percent in June, the government said.
The total number of unemployed people rose by about one million from a year earlier to 3.59 million as companies slashed costs to cope with the worst recession in decades.
It is yet another setback to Aso's long-ruling Liberal Democratic Party (LDP), which is trailing far behind the main opposition Democratic Party of Japan (DPJ) in opinion polls ahead of Sunday's general election.
"There's no doubt the job situation is worsening," said Chief Cabinet Secretary Takeo Kawamura, the top government spokesman. "The economy is still in a recovery phase. But we must pay close attention to the job situation."
Official figures last week showed the world's second largest economy grew in April-June for the first time in five quarters, limping out of recession, but many ordinary people say they are not feeling the recovery.
Japanese companies are also struggling. Toyota Motor said Friday it was abandoning a plant in California that it jointly owned with General Motors -- the first time the Japanese firm has ever pulled the plug on a factory.
"The overall economic picture in Japan remains weak," Societe Generale analysts wrote in a research note. "We expect unemployment to continue rising through the third quarter of this year before any real recovery occurs."
There are also fears that the economy could stumble again as the effects of the government's massive economic stimulus packages fade.
Consumer spending remains weak in Japan, leaving the economy highly dependent on exports. Household spending fell 2.0 percent in July from a year earlier, sharply reversing a 0.2 percent rise in June, data showed.
"The recent growth was mainly due to government spending and was not a self-sustaining recovery in the Japanese economy," said Hiroshi Watanabe, economist at Daiwa Institute of Research.
"We're unlikely to see a swift recovery for the time being."
Deflation also deepened last month with the core consumer price index (CPI) dropping 2.2 percent from a year earlier -- the fastest pace on record.
Core prices, which exclude those of volatile fresh food, fell for a fifth straight month after a 1.7 percent decline in June, pushed down by lower energy costs and weak domestic demand.
"The deteriorating job market may depress consumer sentiment and lead to a vicious circle" of weak growth leading to more layoffs, said Naoko Ogata, senior economist at the Japan Research Institute.
"Domestic demand is pretty weak. We expect deflationary pressure to increase."
Japan was stuck in a deflationary spiral for years after its asset price bubble burst in the early 1990s, prompting consumers to put off purchases in the hope of further price drops and reducing corporate earnings.
Investors, however, took the gloomy data in their stride, with the Nikkei stock index rising 0.57 percent by the close, tracking gains on Wall Street.