TOKYO, Sept 4, 2011 (AFP) - Japan's new prime minister Yoshihiko Noda and his cabinet on Sunday won solid backing in opinion polls, with respondents expressing confidence in his ability to lead the post-quake recovery.
Noda on Friday unveiled a youthful cabinet lacking the usual political heavyweights, after he became Japan's sixth new leader in five years, charged with uniting a divided party and guiding reconstruction.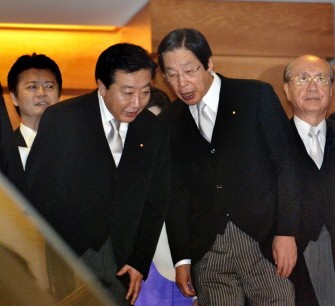 AFP - New Japanese Prime Minister Yoshihiko Noda (L) listens to Agriculture Minister Michihiko Kano (R) as they head to a photo session at the prime minister's official residence in Tokyo after their first cabinet meeting on September 2, 2011.
The Nikkei business daily said its survey showed 67 percent approval for Noda's cabinet -- a significant recovery from the dismal 19 percent rating his unpopular predecessor Naoto Kan recorded in late July.
Respondents said Noda was "reliable" and had a "clean" image, and "offers a sense of stability" as the nation recovers from the March 11 earthquake, tsunami and nuclear crisis, the Nikkei said.
The survey of more than 1,400 households also showed 63 percent support for temporary tax hikes that Noda, known as a fiscal hawk, is considering to finance reconstruction of the northeast region ravaged by the tsunami.
The Japanese public usually gives relatively high approval ratings to a new prime minister, and Kan's own cabinet won 68 percent support in the Nikkei poll when he came into power 15 months ago.
The mass-circulation Yomiuri newspaper said 65 percent of the public supported Noda's new leadership team, and a poll by Kyodo News agency also showed a 63 percent approval for the cabinet.
The Mainichi daily said 56 percent of respondents supported the line-up, and 64 percent said Noda should pursue Kan's policy to phase out nuclear power generation in Japan.
A poll by the Asahi newspaper found that 53 percent of respondents approved of the new cabinet.
Kan resigned last month under fierce criticism of his administration's handling of the earthquake aftermath, including a crisis at the Fukushima nuclear power plant which leaked radiatoin into the air, soil and sea.