TOKYO (AFP) – Former finance minister Naoto Kan became Japan's new leader Friday, pledging economic recovery and close ties with Washington after his predecessor quit over a festering dispute about a US air base.
A parliamentary vote confirmed Kan as the successor to Yukio Hatoyama, who tearfully resigned as prime minister Wednesday, citing the row over the base on Okinawa island and money scandals that sullied his government.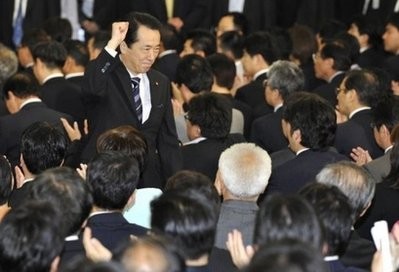 Former finance minister Naoto Kan has become Japan's new prime minister (AFP photo)
Kan, a 63-year-old former civic activist, was also deputy prime minister in Hatoyama's centre-left government that came to power last year in a landslide election, ending half a century of almost non-stop conservative rule.
"My first job is to rebuild the country, and to create a party in which all members can stand up together and say with confidence, 'we can do it!'" a smiling Kan said after his party earlier installed him as its new leader.
Kan vowed to revitalise Asia's biggest economy, which has been in the doldrums since an investment bubble collapsed in the early 1990s.
"For the past 20 years, the Japanese economy has been at a standstill," said Kan. "Growth has stopped. Young people can't find jobs. This is not a natural phenomenon. It resulted from policy mistakes.
"I believe we can achieve a strong economy, strong finances and strong social welfare all at the same time," he said, pledging to reduce Japan's huge public debt which is nearing 200 percent of gross domestic product.
On foreign policy, Kan pointed at the threat posed by communist North Korea, the isolated and nuclear-armed regime that has been blamed for the deadly sinking of a South Korean warship in March.
"Japan has a lot of problems, including the North Korean issue," said Kan, stressing that US-Japanese ties remain the "cornerstone" of foreign policy.
He also said he would maintain Japan's goal to cut greenhouse gas emissions by 25 percent by 2020 from 1990 levels, one of the most ambitious targets of any country, and to seek an EU-style Asian community in future.
It was not immediately clear whether Kan would stick with the expected July 11 date of upper house elections or delay the vote, in which his coalition will fight to keep its majority to avoid policy gridlock.
In one of his first meetings after the party vote, Kan met Shizuka Kamei, head of the tiny People's New Party, and agreed to maintain their coalition, which together gives them a paper-thin majority in the upper house.
But Kan faces an uphill battle to win back voters after the government's approval ratings under Hatoyama slumped below 20 percent this week.
Hatoyama's support plummeted after he backtracked on an election promise to move the unpopular US base off the island of Okinawa, enraging locals as well as the pacifist Social Democrats, who quit the ruling coalition.
The row badly damaged Tokyo's relations with Washington, which has been Japan's bedrock security ally since World War II and has almost 50,000 troops based in Japan, most of them in Okinawa.
Kan, the son of a factory manager and a graduate of applied sciences from a top university in Tokyo, campaigned in the 1970s for pacifist and environmental causes and entered parliament with a leftist party in 1980.
He achieved popularity in the mid-1990s when as health minister he admitted government culpability in a scandal over HIV-tainted blood products.
When the Democratic Party of Japan (DPJ) took power last September he became deputy premier and headed a new National Strategy Bureau, tasked with wresting power from Japan's entrenched and secretive state bureaucracy.
In January Kan, although not a trained economist, took over as finance minister. In that post, he advocated a weaker yen and badgered the central bank to do more to help Japan recover from its worst post-war recession.
The yen had fallen on currency markets in anticipation of Kan's ascent to the top job, but was little changed Friday.
Sadakazu Tanigaki, leader of the conservative opposition Liberal Democratic Party, dismissed the DPJ's top-level reshuffle.
"It's an old-fashioned practice to change the cover page ahead of elections," he said.