Japan's newly anointed premier Yukio Hatoyama will be the new face at this week's G20 summit but he has already made a splash with ambitious plans on climate change and an assertive stance towards Washington.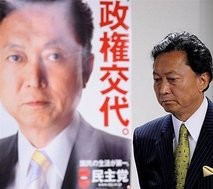 Japanese PM Yukio Hatoyama
Fresh from Wednesday's appointment, he will this week meet US President Barack Obama, China's President Hu Jintao and other leaders at the UN General Assembly and climate change talks in New York and the Group of 20 summit in Pittsburgh.
The centre-left leader -- whose Democratic Party of Japan (DPJ) ended more than half a century of almost unbroken conservative rule in a sweeping election win last month -- has signalled a more vocal stance on world affairs for Japan.
"This will be the perfect opportunity for the Hatoyama administration to promote its policies to the world," said government spokesman Hirofumi Hirano.
A key priority for Hatoyama will be to reassure Obama, whose message of "change" he echoed on the campaign trail, that Japan remains a solid ally, despite pledges by his party to scale back some military cooperation.
"The first step is to build a relationship of trust with President Obama," Hatoyama said this week. But he added he wants relations with Washington in which "Japan can act more proactively and tell them our opinions frankly."
Left-leaning coalition members have pushed for a cut in the 47,000-strong US troop presence in Japan, and Hatoyama has said he would end an Indian Ocean naval refuelling mission that supports US-led forces in Afghanistan.
Hatoyama in a recent essay attacked the excesses of US-style capitalism, causing worry in Washington but earning praise from EU commission chief Jose Manuel Barroso, who hailed the "converging views" between Brussels and Tokyo.
US Secretary of State Hillary Clinton voiced confidence last Wednesday that US-Japan ties will "stand the test of any political changes."
Politics professor Yoshinobu Yamamoto, of Tokyo's Aoyama Gakuin University, said Japan's new leader may postpone tough issues for now, saying: "The objective of his journey is to let world leaders know who Hatoyama is."
Before the G20 kicks off, Hatoyama plans to promote at the UN General Assembly his pledge to cut greenhouse gas emissions by 25 percent from 1990 levels by 2020, and to help poor countries combat climate change.
Hatoyama, who has vowed to reach out to Asia, is also arranging his first meeting with China's Hu and the leaders of Russia and South Korea.
Chinese Premier Wen Jiabao, when he congratulated Hatoyama, spoke of "a new historic threshold" for developing relations between the Asian giants.
When Hatoyama meets Hu, he is likely to push his vision of a future EU-style East Asian community and a single currency.
Seeking to ease distrust in Asia stirred by wartime memories, he has proposed to build a new state memorial to serve as an alternative focus for wartime remembrance to the controversial Yasukuni Shrine.
The Shinto shrine in Tokyo honours war dead but also 14 convicted war criminals and is often seen as a symbol of Japan's past militarism.
At the G20 summit, Hatoyama is likely to assure his counterparts that the world's number two economy will help a global recovery by stimulating domestic demand with fresh measures, including greater social welfare spending.
Hirano said that "the G20 summit is a good opportunity to send a strong message to overcome the international financial crisis, and Prime Minister Hatoyama will positively contribute to it."
In contrast to his business-friendly predecessor, Hatoyama has said that free markets alone cannot solve the world's problems, calling for a balance between regulation and free-wheeling capitalism.
"Hatoyama is expected to assure the world leaders that Japan's commitment to the global economy remains unchanged," said Hirokazu Fujiki, a strategist at Okasan Securities.
"He may even signal that his government is ready to take necessary measures to avoid a slowdown in the (Japanese) economy, which is now feared to be heading to a double-dip recession following the recent recovery."