TOKYO, Aug 31, 2011 (AFP) - Japan's industrial output rose less than expected in July, deepening concerns that a rebound from the March 11 quake and tsunami is easing as the yen remains strong and global demand slows.
Worries over the health of the world economy, which have thrown global markets into turmoil in recent weeks, were underlined by further data Wednesday that showed firms expected output to fall in September, said analysts.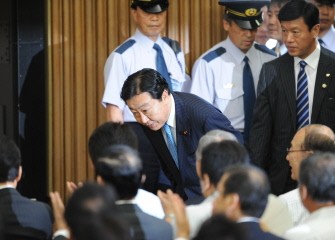 AFP - Japan's new Prime Minister Yoshihiko Noda (C) and president of the ruling Democratic Party of Japan (DPJ) bows to the party's Diet members upon his arrival at a general meeting in Tokyo on August 31, 2011
In the fourth straight monthly gain, industrial production rose 0.6 percent in July, but missed expectations of a 1.5 percent increase. Production rose by a revised 3.8 percent in June.
The data come amid fears that the US economy is slipping and growth in Europe may be affected by the eurozone debt crisis, clouding the outlook for Japan's exporters.
The slowing rebound illustrates the urgency with which new Prime Minister Yoshihiko Noda must move to navigate the economy out of three straight quarters of contraction as external risks increase, analysts say.
"The impact of a global economic slowdown, coupled with the yen's rise, is believed to be putting the brake on a key recovery in exports and curbing a recovery in manufacturing activity," said Naoki Murakami, chief economist at Monex brokerage.
"Japanese companies expected a V-shaped recovery in the second half of fiscal 2011, but judging from current activity it could be difficult."
According to producers polled by the government, production in the world's third largest economy was expected to increase by 2.8 percent in August but decrease by 2.4 percent in September.
Production has rebounded since a record 15.5 percent drop in March after the earthquake and tsunami crippled supply chains and forced companies to close factories. But output remains 2.8 percent below levels from a year earlier.
Last week Japan announced a package including a $100 billion measure to help companies grapple with the strength of the yen, after the unit soared to fresh post-World War II highs against the dollar.
A strong yen erodes exporters' earnings and makes them less competitive, leading to concerns the unit's strength could speed up a shift of jobs and production overseas. The unit was 76.61 against the dollar Wednesday, after hitting a postwar high of 75.95 earlier this month.
While the auto sector has mobilised to overcome production slowdowns in the wake of the earthquake, the prospects for Japan's electronics firms are clouded, according to Hideki Matsumura, an analyst at Japan Research Institute.
"The auto sector is expected to recover steadily in the second half due to domestic demand, but prospects for electronics firms are not so clear due to negative factors including a strong yen and concerns about the global economy," he said.
However, he added: "We think this slowdown indicates production has entered into a minor adjustment period before full recovery."
The March 11 earthquake triggered a tsunami that tore into Japan's northeast coast, leaving more than 20,000 dead or missing while sparking meltdowns and explosions at the Fukushima Daiichi nuclear power plant.
The economy saw its third straight quarter of contraction in April-June, shrinking by an annualised 1.3 percent to remain mired in recession as exports plunged.
July's slower pace of production coincided with the start of mandatory curbs on peak power consumption for big users in the east and northeast of the country in the wake of power shortages following the Fukushima nuclear crisis.
Analysts said the impact was unclear as firms adjusted production schedules accordingly.
Separate data showed that Japan's exports of cars, trucks and buses fell 3.0 percent on-year in July, the fifth consecutive monthly fall as automakers work to restore pre-quake production levels, the Japan Automobile Manufacturers Association said.