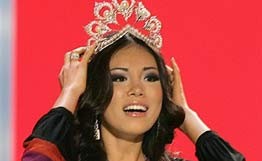 Miss Universe 2007 Riyo Mori
Japan's Riyo Mori, 20, won the Miss Universe 2007 title in Mexico Monday, in front of 600 million television viewers.
An audience of 10,000 in a huge hall in Mexico City watched last year's Miss Universe, Zuleika Rivera of Puerto Rico, place a $250,000 diamond-and-pearl-studded crown on the winner's head.
A Venezuelan came second, and a South Korean took third place out of 15 contenders from 77 countries.
The beauty pageant involved a few scandals. Rachel Smith from the U.S. was hit hardest as Mexicans met her with angry shouts, in protest against her country's alleged discrimination against Mexican immigrants. But despite falling once on stage during the evening gown competition, she took fifth place.
During the pageant, Miss Sweden decided to withdraw because the event was criticized in her country as unworthy of a modern woman. Opponents of the contest held a number of alternative events including Miss Marijuana and Miss Human Rights on the same day.
The last time Japan won the pageant was in 1959, when Akiko Kojima became Asia's first Miss Universe.