TOKYO, July 14, 2009 (AFP) - Japan's opposition slapped a censure motion on embattled Prime Minister Taro Aso Tuesday, dealing him an embarrassing rebuke ahead of a general election that his party appears likely to lose.
The motion, passed by 132 votes to 106 in the opposition-led upper house, carries no legal force but is another setback for Aso, whose party risks being swept from power next month after half a century of almost unbroken rule.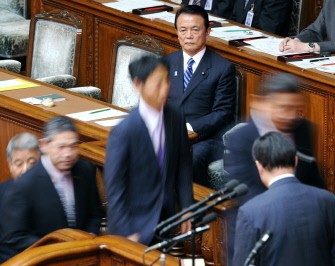 Japanese Prime Minister Taro Aso (top C) watches over voting during a plenary session of the lower house at the Parliament in Tokyo on July 14, 2009 (AFP photo)
The opposition accused the 68-year-old premier of being unfit to lead the nation, criticising him for policy flip-flops and wasteful economic stimulus measures aimed at currying favour with voters ahead of the general election.
The opposition also introduced a no-confidence motion against Aso's cabinet in the more powerful lower house, but it was shot down by the ruling Liberal Democratic Party (LDP).
Aso's LDP has a comfortable majority in the lower house, thanks to a resounding win under popular premier Junichiro Koizumi four years ago.
The ruling party argues that the DPJ, which has never been in power, lacks the experience to run the world's second largest economy.
"What people want is the capability to manage a government," LDP secretary general Hiroyuki Hosoda said in parliament.
But voter surveys suggest Aso's party is likely to be replaced by the main opposition Democratic Party of Japan (DPJ), which won control over the upper house in 2007.
Battered by a key local election at the weekend, Aso on Monday called a general election for August 30 that could reshape the political landscape in the world's second largest economy.
His growing woes come despite recent signs of an improvement in the economy, which has slumped to its worst recession since World War II due to a collapse in exports triggered by the global economic downturn.
The beleaguered premier, a former diamond trader and one-time Olympic marksman, has unveiled a series of stimulus spending packages, including cash handouts for households.
A victory by the DPJ would bring an end to almost two years of legislative deadlock in Japan, which has had three prime ministers since the reform-minded Koizumi stepped down in 2006.
The LDP has been in open disarray in recent months, with some of Aso's own lawmakers calling for a change of leadership.
A veteran LDP lawmaker, Hajime Funada, said Monday that it would be "suicidal" for the party to continue under Aso while a junior LDP politician, Yukari Sato, also called for a new leader.
Aso, however, has vowed to fight on, saying it would be "irresponsible" for him to abandon the job.
"It's a crucial time when I must hold on by clenching my teeth," he told reporters late Monday.
His approval ratings have sunk below 20 percent in recent surveys as voters turn to an opposition promising a more inclusive society and a middle road between a welfare state and a free market system.
The centrist DPJ won 54 seats in a Tokyo assembly election on Sunday to become the largest party in the city for the first time.
The LDP won 38 seats while its coalition partner New Komeito took 23, leaving the ruling bloc three seats short of the 64 needed for a majority. The remaining 12 seats went to other opposition and independent candidates.