TOKYO, April 8, 2011 (AFP) - The head of the embattled operator of Japan's crippled Fukushima nuclear plant will appear soon at a press conference, local media said Friday, nearly four weeks after he was last seen in public.
Masataka Shimizu, the president of Tokyo Electric Power Co. (TEPCO), has returned to work after spending more than a week in hospital, Jiji Press reported, quoting TEPCO vice president Takashi Fujimoto.
"I think he will soon hold a press conference. He has the intention to do so," Fujimoto said, according to Jiji.
Shimizu, 66, suffering high blood pressure and dizziness, fell ill and was admitted to hospital late last month.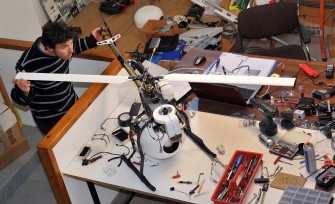 AFP - An employee of the Helipse company, works on a remote-controlled helicopter equipped with cameras and radioactivity sensors on April 7, 2011 in La Couronne, western France. The helicopter will be sent this weekend to Japan to fly over the Fukushima nuclear plant
The last time the public got a glimpse of him was March 13, two days after a 9.0-magnitude quake and subsequent tsunami knocked out cooling systems at the Fukushima plant, setting off a crisis that has still not ended.
The plant northeast of Tokyo has belched out radiation, contaminating farm produce, sea water and drinking water.
"He is fine, although it's still not perfect," Fujimoto said, according to Jiji.
Fujimoto suggested the president would visit the crisis-hit communities in northeast Japan to make a direct apology to local residents.
"Once he has come back to work, he will have to do so," said Fujimoto.