Shares in Japan's TEPCO briefly dived 28 percent Monday to a record low following a media report that the operator of the country's tsunami-hit nuclear plant would log a $7 billion loss in fiscal 2011.
The stock was also hit by a reported comment by Tokyo Stock Exchange president Atsushi Saito that Tokyo Electric Power Co. should file for bankruptcy protection, a move that could hit shareholders hard.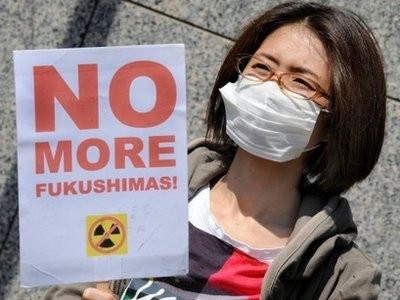 A protester holds a placard during a rally denouncing nuclear power in front of the headquarters of Tokyo Electric Power Company.
TEPCO stock fell to 206 yen mid-morning, down 80 yen or 28.0 percent from Friday, the maximum loss allowed for one trading day. It then slightly recovered to end the morning session at 218 yen, down 68 yen or 23.77 percent.
The Kyodo News agency reported at the weekend that the utility was expected to post a net loss of 570 billion yen ($7 billion), excluding results for other group companies, for the business year to March 2012.
The reported loss excludes compensation for the tens of thousands of people affected by the ongoing crisis at its crippled Fukushima Daiichi nuclear power plant, Kyodo said, citing an internal company document.
Tokyo Stock Exchange president Saito said in an interview with the Asahi Shimbun online magazine Asahi Judiciary Friday that TEPCO should follow the same path as Japan Airlines, which filed for bankruptcy last year.
Shares in the debt-ridden airline, which is undergoing restructuring, fell to one yen (less than one US cent) before being delisted in February 2010.
"If possible, it is desirable that TEPCO go through the same legal procedure as Japan Airlines," Saito was quoted as saying in the interview.
Japan's massive March 11 earthquake and tsunami knocked out cooling systems at the Fukushima Daiichi nuclear plant, causing reactors to overheat and allowing radiation to leak into the air, sea and soil.
The worst nuclear disaster since Chernobyl in 1986 has forced the evacuation of tens of thousands of people from their houses, businesses and farms in a 20-kilometre (12-mile) radius around the plant.
There has been no official estimate of damages yet, but the sum is widely expected to reach several trillion yen (tens of billions of dollars).
"Concerns are rising that the company may not be able to survive as a going concern in the coming year," a fund manager at a Japanese asset management firm told Dow Jones Newswires.
"The compensation scheme hasn't been established yet as uncertainty remains over Japanese politics," the manager added.
Japan has been gripped by political turmoil since centre-left Prime Minister Naoto Kan last week survived a no-confidence motion after promising he would resign soon, sparking heated debate on when exactly he should bow out.
Banks provided two trillion yen in emergency loans to TEPCO in April but the amount of cash and deposits held by the company is expected to fall to 95 billion yen by the end of the current business year, Kyodo said.
The drop would stem from surging fuel costs as TEPCO makes up for lost nuclear capacity by increasing output from fossil fuel plants, and from the redemption of corporate bonds, it reported.
The Japanese government last month announced a rough scheme for rescuing TEPCO to ensure the payment of compensation.
The scheme will involve the use of public funds and give the government a hand in supervising TEPCO, one of the world's biggest power companies, to ensure it stays solvent and follows pledges to restructure.