MANILA, Nov 23, 2011 (AFP) - Relatives of 57 people killed in the Philippines' worst political massacre were set to mark two years since the killings Wednesday with pleas for authorities to speed up the justice process.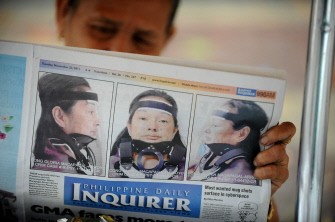 AFP - A woman reads a newspaper with the frontpage showing mugshots of former Philippine President Gloria Arroyo in Manila on November 22, 2011.
While key leaders of the Ampatuan clan who are accused of orchestrating the killings have been charged, their trial is still in its early stages and prosecutors fear it could take years before anyone is punished for the crime.
Meanwhile, 100 suspects -- including members of the Ampatuan family, policemen and soldiers -- have yet to be caught, and relatives of the victims have complained that witnesses are being killed, intimidated or bribed.
"It has been two years and there is still no justice. Some (suspects) have been arraigned but others are still out there," said Reginald Dalmacio, 28, whose sister Leah, a newspaper journalist, was one of the 57 killed.
Philippine politics is well known for its violence, but the events of November 23, 2009, in a remote farming area of the southern province of Maguindanao shocked the world.
Andal Ampatuan Jnr allegedly led a group of about 100 gunmen in stopping a convoy of cars carrying relatives of a rival political candidate, their lawyers and accompanying journalists, then massacring them.
Ampatuan Jnr allegedly led the killings because he wanted to stop the rival political candidate, Esmael Mangudadatu, from challenging him in elections.
Thirty-two of the victims were journalists who were travelling with the convoy to witness Mangudatatu's wife, pregnant sister and other relatives lodge his candidacy to run against Ampatuan Jnr for the post of provincial governor.
Andal Ampatuan Jnr's father and namesake was at the time governor of Maguindanao and had been planning to install his son as successor.
Ampatuan Snr had ruled Maguindanao for nearly a decade, building a reputation over that time as a feared warlord who used a private army of a few thousand men to ensure he and his relatives won elections.
He ruled the province with the support of then-president Gloria Arroyo, who helped fund and legitimise his private army so it could be used as a proxy force against Muslim separatist rebels.
Ampatuan Snr and Jnr are among 64 people who are on trial in Manila, with a total of 93 suspects having been arrested but another 100 are on the run.
A day ahead of the two-year anniversary, human rights watchdog Amnesty International said the pressure was on President Benigno Aquino's government to speed up the "very slow wheels of justice" in the case.
"The government has to show that it has the ability to render justice in a massacre that constituted the world's worst ever attack on journalists and the world's worst ever election related single incident," it said.
Government prosecutor Nena Santos, who is handling the case, said her team was trying its best but the huge number of suspects and the stalling tactics of the defence lawyers had slowed proceedings.
Even on less complex cases the Philippine justice system is notoriously slow, with a trial taking an average six years to complete, according to government data.
Victims relatives are pinning their hopes on Aquino, who won elections last year in a landslide after promising to end the culture of impunity that has allowed so many powerful people in the Philippines to get away with crimes.
Government employee Ellver Cablitas, whose wife, radio broadcaster Marites, was one of those murdered, said he was looking to Aquino to keep his campaign promises.
"His advocacy was change, that those who are guilty must be punished so that is what he should deliver to us," Cablitas told AFP.
Relatives of the victims will hold a ceremony at the massacre site on Wednesday to mark the two-year anniversary.
On Tuesday relatives of some of those killed sued the then-president Gloria Arroyo for arming and supporting the alleged murderers.