MISRATA, Libya (AFP) – Libyan leader Moamer Kadhafi remained defiant on Tuesday after his compound was hit by NATO bombs and rebels in Misrata said they had pushed his troops out of the besieged city.
"The leader is working from Tripoli. The leader is well, is very healthy, is leading the battle for peace and democracy in Libya," regime spokesman Mussa Ibrahim said outside the bombed building at Kadhafi's Bab al-Aziziya residence.
"The leader is in a safe place. He is leading a battle... he works every day. He led the battle to provide people with services, with food, medicine, fuel," Ibrahim told a news conference in the presence of several ambassadors.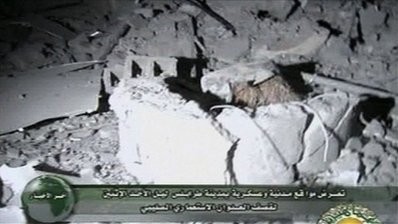 AFP - Moamer Kadhafi's office in his immense Tripoli residence was destroyed in a NATO air strike early Monday
A meeting room facing Kadhafi's office was badly damaged in what NATO in Brussels said was "a precision strike" on a communications centre early on Monday.
Three people were killed and 45 wounded -- 15 seriously -- in the air strike, Ibrahim said.
At least five explosions rocked eastern Tripoli on Monday night, witnesses said, although they could not pinpoint the location.
"We heard three loud explosions and we saw flames and smoke billowing close to us," a resident of Ain Zara neighbourhood in eastern Tripoli told AFP.
Two other detonations shook the same neighbourhood a few minutes later, another witness said.
Rebels in Misrata, 215 kilometres (132 miles), east of Tripoli, said they have pushed Kadhafi's troops out of the city after a siege lasting more than seven weeks.
The claims came even as rockets continued to rain down on the country's third city.
"There may be some soldiers hiding in the city, afraid of being killed, but there are no groups of soldiers left," one rebel said.
In the Mujamaa Tibi hospital, Mohamed al-Fajieh recounted the results of the Monday's fighting, describing unusually severe wounds and corpses reduced to little more than ashes.
There were "completely charred corpses, some of them so badly burned that we aren't sure they are human bodies," he told AFP. "This is the first time we've seen such burns."
According to figures provided by sources at hospitals across Misrata, around a dozen people were killed and at least 20 wounded in fighting through the night on Monday.
Sources said those caught up in the violence were all civilians -- including young children.
Rebel leader Taher Bashaga said: "It will take some time, I think, but then it will all go well and Misrata will be free for ever, God willing."
However, the claim was greeted sceptically in the western city of Benghazi, bastion of the rebellion that erupted in mid-February against the veteran strongman.
The Transitional National Council's military spokesman Colonel Ahmed Omar Bani dismissed reports of progress in Misrata.
"It is a disaster there," he said. "Kadhafi is not going anywhere. Misrata is the key to Tripoli. If he lets go of Misrata, he will let go of Tripoli. He is not crazy enough to do that."
Two captured pro-Kadhafi soldiers told AFP that loyalist forces were losing their grip in Misrata.
"Many soldiers want to surrender but they are afraid of being executed" by the rebels, said Lili Mohammed, a Mauritanian hired by Kadhafi's regime to fight the insurgents.
Libya's Deputy Foreign Minister Khaled Kaim says the army suspended operations against rebels in Misrata, but hasn't left the city, to enable local tribes to settle the battle "peacefully and not militarily."
Meanwhile, 2,000 foreigners remain in Misrata still hoping to be evacuated, US officials said Monday.
British photographer Guy Martin, wounded last week in a mortar attack that killed two colleagues, was evacuated Monday from Misrata, an AFP journalist said.
Martin suffered a ruptured spleen in the blast that killed award-winning photographers Tim Hetherington, a 40-year-old Briton with dual US nationality, and American Chris Hondros, 41.
Kadhafi's regime is accusing the United States, which launched its first Predator drone strikes over the weekend, of "new crimes against humanity" for deploying the low-flying, unmanned aircraft.
Drone strikes had so far hit a rocket launcher targeting Misrata and an SA-8 surface-to-air missile in Tripoli, NATO officials said.
Also Monday, Prime Minister Silvio Berlusconi said Italy's air force will take part in "targeted action" in Libya.
On the diplomatic front, British defence minister Liam Fox travelled to the United States for Libya talks with American counterpart Robert Gates, officials in London said.
Protests in Libya inspired by the revolts that toppled longtime autocrats in Egypt and Tunisia escalated into war when Kadhafi's troops fired on demonstrators and protesters seized several eastern towns.