Libyan leader Moamer Kadhafi met overnight with Lockerbie bomber Abdelbaset Ali Mohmet al-Megrahi amid mounting Western outrage over the hero's welcome he received upon his return.
Kadhafi's son Seif al-Islam said Megrahi's release from a Scottish prison on Thursday was linked to trade deals with Britain, allegations which were swiftly denied by London.
The Libyan leader praised Scottish authorities for their "courage" in releasing Megrahi, who is suffering from terminal prostate cancer, on compassionate grounds.
"At this moment I would like to send a message to our friends in Scotland ... and I congratulate them on their courage and for having proved their independence despite the unacceptable and unreasonable pressures they faced," Kadhafi was quoted as saying by Libya's official Jana news agency.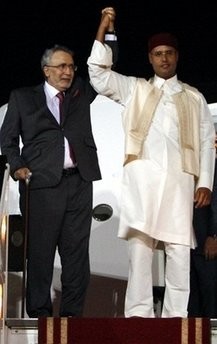 Picture obtained from Oya newspaper shows Libyan leader Moamer Kadhafi's son Seif al-Islam (R) raising the hand of freed Lockerbie bomber Abdelbaset Ali Mohmet al-Megrahi on their arrival in Tripoli.
Libyan television showed images of Kadhafi receiving and embracing Megrahi late on Friday.
Megrahi, the only person convicted for the December 1988 bombing of Pan Am Flight 103, which killed 270 people in the air and on the ground in the Scottish town of Lockerbie, was sentenced to life in prison in 2001.
Hundreds of flag-waving well-wishers cheered Megrahi upon his arrival in Tripoli, despite warnings by the United States that a public celebration might damage relations that have been improving since Libya renounced terrorism and its pursuit of weapons of mass destruction in 2003.
US President Barack Obama on Friday called the red-carpet reception Megrahi received "highly objectionable", while his spokesman Robert Gibbs denounced an "outrageous and disgusting" display.
Seif al-Islam, who travelled to Scotland to accompany Megrahi back to Libya, said his release was linked to trade deals.
"In all commercial contracts, for oil and gas with Britain, (Megrahi) was always on the negotiating table," Islam said in interview to Libyan TV channel Al Mutawassit taped on the flight back to Tripoli.
"All British interests were linked to the release of Abdelbaset al-Megrahi," he added.
A spokesman for Prime Minister Gordon Brown's Downing Street office firmly denied that Megrahi's release was linked to Britain's interest in Libya's oil and gas reserves.
"There is no deal," a spokesman told AFP.
"The position remains the same as we have been making clear: this has always been a matter for the Scottish executive and ministers," he added.
A spokesman for the Foreign Office also rejected the allegations.
"No deal has been made between the UK government and Libya in relation to Megrahi and any commercial interests in the country," a spokesman said.
Foreign Secretary David Miliband on Friday angrily refuted suggestions that the British government wanted Megrahi freed so that commercial relations with oil-rich Libya could be improved.
"I really reject that entirely," he said. "That is a slur both on myself and the government."
Speculation that there had been some form of agreement was fuelled by the disclosure that Britain's Business Secretary Lord Peter Mandelson met Islam during his recent holiday on the Greek island of Corfu.
Kadhafi said Friday that Megrahi's release "... will surely have positive repercussions on all aspects of cooperation between our two countries."
Megrahi, who has always maintained his innocence, told The Times newspaper in an interview conducted at his family home in Tripoli that he will present new evidence through his Scottish lawyers that will exonerate him.
"My message to the British and Scottish communities is that I will put out the evidence and ask them to be the jury," he said, refusing to elaborate.
Britain's newspapers said Saturday that neither London, Edinburgh, nor Tripoli had emerged with any credit from Megrahi's release.
The Independent said the London government had been caught off-guard by the negative reaction in the United States, while the Financial Times said the Lockerbie affair was not brought to a close by Megrahi's release, while the Daily Mail said Britain had been humiliated by Libya.