Libyan leader Moamer Kadhafi said Wednesday he had abandoned his Tripoli compound, seized earlier by rebel fighters, in a "tactical withdrawal."
"Bab al-Azizya was nothing but a heap of rubble after it was the target of 64 NATO missiles and we withdrew from it for tactical reasons," he said in a speech carried by the website of a television station headed by his son Seif al-Islam.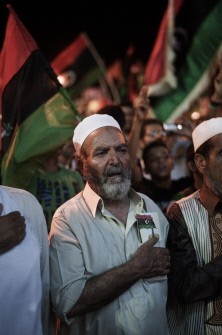 Libyans listen to the rebel national anthem as they celebrate on August 24, 2011
The speech also quoted by the pro-Kadhafi Al-Oruba channel came after rebel fighters stormed the sprawling compound but found no trace of him or any of his family.
It gave no indication of where he had gone.
At the same time Kadhafi spokesman Mussa Ibrahim told the Syrian-based Arrai channel that more than 6,500 "volunteers" had arrived in Tripoli to fight for the regime and called for more.
"The volunteers can come to Libya and we will give them weapons, ammunition and training," he said.
Ibrahim said Kadhafi's forces had captured several rebel leaders and warned that if NATO raids continued "we will turn Libya into a brazier and we can protect civilians from the crusader gangs and alliances."