TRIPOLI (AFP) – Moamer Kadhafi accused the West of wanting to seize Libya's oil and warned that a no-fly zone would backfire as his forces pounded rebel lines, setting a string of oil facilities ablaze.
The boss of Libya's state oil firm said the damage to infrastructure was minor but acknowledged that oil output was down more than two-thirds, as the price for London's main contract jumped to $116.50 per barrel.
"The colonialist countries are hatching a plot to humiliate the Libyan people, reduce them to slavery and control the oil," Kadhafi said on state television.
He again accused Al-Qaeda of being behind the insurrection that began on February 15 and called on inhabitants of Benghazi, the rebels' main base, to "liberate" Libya's second city.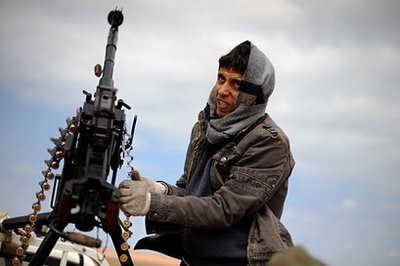 A Libyan rebel fighter struggles to reload his machine gun during clashes with forces loyal to Moamer Kadhafi, just few kilometers outside the oil town of Ras Lanuf. AFP
His government offered a $410,000 bounty for the capture of Mustafa Abdel Jalil, head of the rebel national council that declared itself the North African country's sole representative in Benghazi on Saturday.
Strong blasts rocked the rebel-held oil town of Ras Lanuf on Libya's central coast, forcing the insurgents back. A mechanic said a pipeline had been blown up.
An oil installation was also ablaze near As-Sidra 10 kilometres (six miles) further west although National Oil Corp boss Shukri Ghanem played down its importance.
"Fortunately, the explosion today was in a small storage supply facility in Sidra... It has not affected the production," Ghanem said, adding: "It was diesel, it's not crude oil."
Scores of rebels packed into dozens of vehicles and retreated into Ras Lanuf after several hours of sustained shelling and at least three air strikes west of the town.
It was the second time in as many days the rebels had been routed in front of the government-held hamlet of Bin Jawad, some 30 kilometres from Ras Lanuf.
Fighting in eastern Libya has killed at least 400 people and wounded 2,000 since February 17, medics there said.
In Zawiyah, just west of Tripoli, the battle for control of the strategic oil city was undecided.
"The revolutionaries control the centre of Zawiyah and Kadhafi's forces are surrounding it. It's 50-50," a long-term Moroccan resident said after crossing the border into Tunisia.
"There was no one in the streets, the town is completely deserted, and there are snipers on the roofs," he said, adding that he did not know which side they were on.
Government spokesman Mussa Ibrahim said: "Zawiyah is under the control of the army but there are still pockets of violence. There have been celebrations for hours."
Crude oil prices rose in Asian trade Thursday with New York's main contract, light sweet crude for delivery in April, gaining 44 cents to $104.82 per barrel. Brent North Sea crude for April delivery rose 56 cents to $116.50.