LONDON, April 5, 2011 (AFP) - Libyan leader Moamer Kadhafi's son Saif al-Islam said on Tuesday that Mussa Kussa was "sick and old" and insisted he did not feel betrayed by the foreign minister's defection to Britain.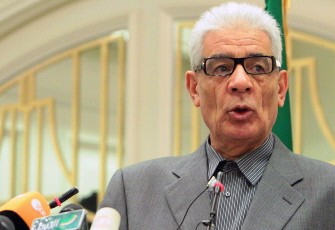 AFP file - In this photo dated March 19, 2011 Libyan Foreign Minister Mussa Kussa speaks during a press conference in Tripoli
"He (Mussa Kussa) said 'now I'm on a travel ban list and I'm sick and I have to go every three months to Cromwell Hospital, in London. If I can get permission, I want to go there'," he told BBC television.
"We allowed him to go to Djerba, in Tunisia... so there's nothing against that."
Asked if Kussa's surprise arrival in Britain last week as coalition forces bombed Libya was a betrayal, Saif said: "No. They are sick people, old and sick people and we have been bombed for two weeks."
The Libyan leader's son said the coalition campaign to enforce a UN resolution was putting people under "psychological pressure".
"What can you do? You resign, you say you are going. It is war, Libya is at war."
Saif claimed that Kussa would tell British officials "funny stories" in order to try and gain immunity from prosecution.
"The British government say this: 'you have no immunity unless you cooperate'. He is sick, he is sick and old," said Saif.
"So if you put it this way, of course you will come out with funny stories."
Scottish officials investigating the 1988 Lockerbie bombing plan to interview Kussa in the coming days.
As a senior figure in Kadhafi's regime at the time, Kussa is suspected of involvement in the bombing of the Pan Am jet over the Scottish town that killed 270 people.
Saif, who had not been seen in public since coalition air strikes began on March 19, briefly showed up at a Tripoli hotel where journalists are staying to give the interview to the BBC.
As the coalition campaign continued in Libya on Tuesday, the country's government said it was ready to negotiate reforms, but refused any talk of Kadhafi stepping down.