TRIPOLI, March 2, 2011 (AFP) - Moamer Kadhafi warned "thousands" would die if the West launched a military intervention in Libya as rebels repulsed a fierce onslaught by his forces around a key eastern oil town.
US Secretary of State Hillary Clinton said any such decision was a "long way" off, and NATO officials remained divided.
Clinton also warned that any intervention would be "controversial" in the Arab world and that the Libyan opposition wanted to be seen to be dislodging Kadhafi's forces on their own.
The patchwork Libyan opposition controls swathes of eastern and western Libya including the key eastern city of Benghazi and some oil installations. Kadhafi remains firmly in control of the capital Tripoli.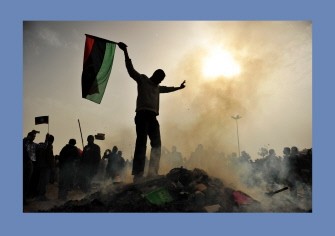 A resident of the north-central Libyan city of Benghazi stands atop a burning heap of books authored by Libyan leader Moamer Kadhafi. AFP
With a humanitarian crisis worsening on Libya's western border with Tunisia, Britain said it was sending planes to airlift thousands of Egyptians stuck in refugee camps, while France said it was sending a helicopter carrier to waters off Libya to help evacuate civilians.
Speaking live on state television, Kadhafi warned that the "battle will be very, very long" if there is any intervention by foreign powers.
"If the Americans or the West want to enter Libya they must know it will be hell and a bloodbath -- worse than Iraq."
Calls for a no-fly zone have come in response to media accounts that Kadhafi's forces have used planes and helicopter gunships to fire on civilians.
The Arab League said after a meeting of foreign ministers in Cairo that "the Arab countries cannot remain with their arms folded when the blood of the brotherly Libyan people is being shed".
One of the issues it said it will consider is "the imposition of an aerial exclusion zone" in cooperation with the African Union.
Muslim-majority Turkey has already said any NATO involvement would be "unthinkable".