A son of Moamer Kadhafi blamed his high-profile brother for the collapse of talks with Libya's new rulers on abandoning one of the last remaining loyalist bastions, CNN television reported late Sunday.
Saadi Kadhafi told CNN in a telephone interview that an "aggressive" speech broadcast by his brother, Saif al-Islam Kadhafi, a few days ago had led to the breakdown in negotiations, paving the way for an attack.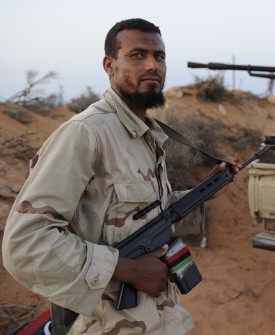 A NTC fighter from the Zintan Martyr Brigade rests near the front line close to Umm Khanfis, some 80 km east of Sirte, on September 4, 2011
The town southeast of Tripoli is one of the last strongholds of pro-Kadhafi fighters where at least one of the ousted despot's sons is reputed to be hiding.
Asked about his location, Saadi said he is "a little bit outside" of Bani Walid but had been moving around, CNN reported. He said he had not seen his father or brother for two months.
Saadi said he is "neutral" but remains "ready to help negotiate a cease-fire," CNN said.