TRIPOLI, Aug 23, 2011 (AFP) - Libyan rebels declared the Kadhafi era over after storming Tripoli, but one of the veteran strongman's sons insisted the battle was far from over as he defiantly refuted reports of his arrest.
Exultant rebel fighters packed in trucks and cars have since Sunday streamed across the capital of the oil-rich North African state, seizing control of Moamer Kadhafi's state television network and Tripoli's seaside Green Square.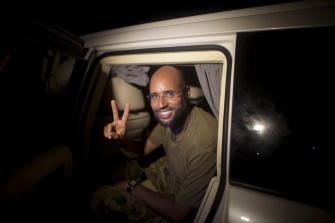 AFP- Saif al-Islam Kadhafi, son of Libyan leader Moamer Kadhafi, flashes the V-sign for victory as he appears in front of supporters and journalists in the Libyan capital Tripoli in the early hours of August 23, 2011
US President Barack Obama called for "an inclusive transition" in Libya, demanding that Kadhafi "explicitly" give up power and warning the rebels that their struggles were "not over yet".
But after so long in power, Kadhafi is resisting calls from Obama and other world leaders to step down and gunfire is still crackling around Tripoli, at the climax of a revolt that sprang up in February during the "Arab Spring".
Kadhafi's whereabouts are unknown but the White House said there was no indication that the 69-year-old leader, who has ruled Libya with an iron fist since 1969, had left Tripoli.
His son Seif al-Islam, after being said by the International Criminal Court (ICC) to be under arrest, appeared before cheering armed loyalists outside the family's residential compound in the early hours of Tuesday.
"Tripoli is under our control. Everyone should rest assured. All is well in Tripoli," he told journalists outside the compound at Bab al-Azizya, smiling broadly and flashing the V for victory sign despite the rebels' encroachment.
"I am here to refute the lies," the 39-year-old said about reports of his arrest, and accused the West of waging a "technological and media war to cause chaos and terror in Libya".
Seif al-Islam, who like his father is wanted by the ICC for crimes against humanity, claimed the insurgents had suffered "heavy casualties" Monday when they attempted to storm the Bab al-Azizya compound in the city's south.
Mohammed Kadhafi, the leader's eldest son whose arrest had also been announced by rebels, has escaped, the Libyan ambassador to Washington told CNN.
The rebels said they had cut off a column of pro-Kadhafi troops attempting to march on Tripoli from the city of Sirte, the leader's hometown. The rebels themselves say they are awaiting thousands of reinforcements from around Libya.
The mood around the iconic Green Square, renamed "Martyrs Square" by the rebels, has been joyous with fighters and their supporters dancing through the night and waving the red, black and green flag of anti-regime forces.
But Tripoli residents are palpably nervous as the end game plays out.
The situation remained tense at the Rixos hotel, home to some 30 foreign correspondents, where water and power supplies were cut on Monday while pro-Kadhafi soldiers stood guard outside the building.
The rebels are hesitant about how to secure the parts of Tripoli not already under their control: whether to advance through broad boulevards, where they could be vulnerable to sniper fire, or to fight through narrow back streets.
"The Kadhafi era is over," rebel chief Mustafa Abdel Jalil told a news conference in the anti-Kadhafi stronghold of Benghazi, eastern Libya.
But while thanking NATO for its military support, he conceded that not all of Tripoli was under rebel control and cautioned that "the real moment of victory is when Kadhafi is captured".
Abdel Jalil also expressed hope that Kadhafi would be "captured alive so that he will be given a fair trial".
Kadhafi broadcast three defiant audio messages on Sunday, vowing he would never surrender and urging the people of Tripoli to "purge the capital". But he has not been seen in public for weeks as the rebels have crept ever closer.
France welcomed the apparent defeat of Kadhafi's regime and said it would host a summit of the international "Contact Group", countries backing NATO's anti-Kadhafi air campaign which are coordinating a response to the conflict.
Contact Group diplomats will first meet on Thursday in Istanbul "to coordinate next steps", the US State Department said.
UN leader Ban Ki-moon said the heads of the African Union, European Union, Arab League and other regional groups would attend a summit on Libya this week in New York, probably on Thursday or Friday.
Crude rose in Asia Tuesday as traders monitored the crisis in Libya, with the price rise also being supported by expectations that it could take years before the North African country's oil output is back to pre-revolution levels.
Brent North Sea crude for October delivery rose 39 cents to $108.75 a barrel from Monday's close of $108.36.
New York's main contract, West Texas Intermediate (WTI) light sweet crude for October delivery rose 64 cents to $85.06.