KARACHI, Aug 2, 2009 (AFP) - The death toll from a building collapse in the southern Pakistani city of Karachi rose to 24 as rescue workers pulled out more bodies from the rubble, officials said Sunday.
The five-storey building in the port city's densely populated Khajoor Bazaar area collapsed late Friday, trapping dozens of people in the debris. Police on Saturday said 13 bodies had been recovered.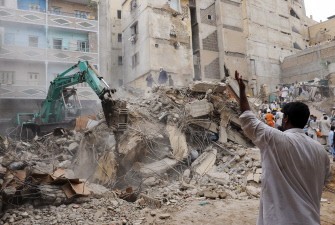 Pakistani rescue workers and volunteers gather at the site of the collapsed building in Karachi on August 1, 2009 (AFP photo)
"Rescue workers have recovered six more bodies, another five dead bodies are still trapped in the rubble," police official Irfan Meao told AFP by telephone. Eight others were injured in the incident.
He said 11 of the dead were women while a child also died in the incident.
"We are investigating the cause; the building may have been damaged because of last month's heavy monsoon rain," local government official Dilawar Khan told AFP.
Last month Karachi's first torrential rains of the monsoon season killed at least 26 people, mostly women and children, and injured hundreds.
Karachi, with a population of 14 million people, is the economic of hub of Pakistan.