KABUL (AFP) – Afghan President Hamid Karzai sought to convince an international conference in Kabul on Tuesday that his government could assume full leadership by 2014 and demanded greater control of aid money.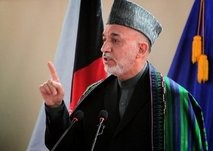 (AFP file) Afghan President Hamid Karzai
Karzai's administration is under massive Western pressure to crack down on corruption, prove that it is serious about taking responsibility for security and can ultimately face down a spiralling nine-year Taliban insurgency.
The war is killing record numbers of Western soldiers and the Taliban control large swathes of the south even as the United States leads a surge of foreign troops to 150,000 in weeks under a counter-insurgency push.
"I remain determined that our Afghan national security forces will be responsible for all military and law enforcement operations throughout our country by 2014," Karzai told representatives from 70 organisations and states.
Thousands of Afghan police, military and security forces, backed up by NATO forces, put Kabul under security lockdown to guard against any possible Taliban attack marring the conference at the heavily protected foreign ministry.
Karzai said the international community had committed enough money to see Afghanistan through the next three years and called for greater control of the multi-billion-dollar aid budget for his impoverished country.
"We all agree that steady transition to Afghan leadership and ownership is the key to sustainability," he said.
"We are pleased that the international community in general and the United States, in particular, have committed to channel 50 percent of their assistance through the Afghan budget in the next two years.
"Our systems are strong and improving, and we are committed to working with donors to give them the confidence needed to channel resources through the Afghan budget."
Since the Taliban regime was overthrown in 2001, only 20 percent of pledged funds -- an estimated total of 40 billion dollars -- had been channelled through the Afghan budget, leading to serious corruption among the rest.
The West is under increasing public pressure to justify their aid and military commitments to one of the world's most corrupt countries where the war has killed at least 380 foreign soldiers so far this year.
UN chief Ban Ki-moon, who joined Karzai in chairing the conference, called on Afghans to take greater responsibility for all the country's challenges.
"Let us also be clear -- just as Afghans are taking greater responsibility for governance and development so must they take greater responsibility for security as well," he said.
US Secretary of State Hillary Clinton, who held talks with Karzai late Monday, said transition to Afghan leadership could not be put off indefinitely but said much more work faced the Afghan government on corruption.
"The Afghan government is stepping forward to deal with a multitude of difficult challenges. We?re encouraged by much of what we see, particularly their work to improve governance," Clinton told the conference.
"These steps are important. But much more work remains," she said.
Afghanistan and the United States are trying to reach out to Taliban foot soldiers, offering them jobs and cash in exchange for laying down their weapons. Karzai has also called for peace talks with insurgent leaders.
Karzai won endorsement from Afghan leaders last month to start peace talks with insurgent leaders and called on the international community to back his efforts -- despite at least initial scepticism from the United States.
"We hope those who have taken arms against our country will see the wisdom of pursuing their legitimate aspirations through peaceful means. We expect our international partners to endorse and support our peace initiatives."
NATO chief Anders Fogh Rasmussen emphasised that the alliance would remain in Afghanistan even after Afghans take over responsibility for security.
Rasmussen said transition would be based on "conditions, not calendars" with NATO forces working to train Afghan police and army to take the lead in protecting the country.
"And when it happens, international forces won't leave; they will simply move into a supporting role," he said.