Hamid Karzai was sworn in for a second presidential term Thursday, winning Western praise with a promise to combat corruption and to put Afghan troops in charge of security within five years.
Karzai took the oath of office after an election mired in fraud, as the US-led war in Afghanistan stretches into a ninth year, leaving record numbers of soldiers and civilians dead and as the Taliban extends its control in the country.
In a wide-ranging speech, he promised action on the worst problems that preoccupy his Western backers, who are weary after pouring more than 100,000 troops and billions of dollars of aid into Afghanistan with little in return.
"We are determined that within the next five years the Afghan forces are capable of taking the lead in ensuring security and stability across the country," he said.
"The role of international troops will be gradually reduced and limited to support and training of Afghan forces."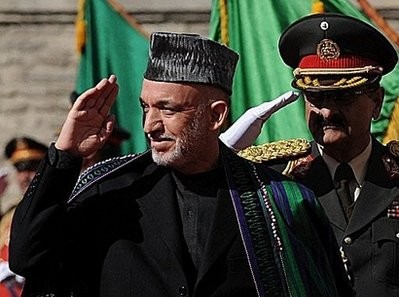 Afghan President Hamid Karzai (L) salutes upon his arrival for his swearing in ceremony
Underscoring the virulence of the security challenge his new government faces, bombers killed two US soldiers and 10 Afghan civilians in separate attacks in the south of the country, part of Karzai's ethnic Pashtun heartland.
Karzai vowed to call a meeting of political, tribal and community leaders from across the country's social spectrum to bring peace -- pledging action on corruption, drugs, unemployment and reconciliation. Profile: Hamid Karzai
"We will call Afghanistan's traditional loya jirga and make every possible effort to ensure peace in our country," he said, calling on Taliban "not directly linked to international terrorism to return to their homeland".
Addressing endemic official graft in a speech delivered before an audience of visiting foreign ministers, including US Secretary of State Hillary Clinton, he said: "Corruption is a dangerous problem."
"We will soon organise a conference in Kabul to organise new and effective ways to combat this problem," said the 51-year-old Karzai.
Washington has increasingly expressed concern about Karzai's reliability as a US ally and effective head of state, urging his government to eradicate corruption to counter an intensifying Taliban-led insurgency.
However he won praise from Clinton on Thursday for his promises of a fresh effort to clean up government.
"President Karzai's inaugural address provides an important new starting point and we intend to build on it," she said.
"He was particularly strong on the steps that he intends to take regarding corruption," she said, adding it "set forth an agenda for change and reform".
The United States and NATO have little choice but to work with Karzai as they have 100,000 soldiers fighting the Taliban and are deciding whether to dispatch tens of thousands of extra troops in a last-ditch push to win the war. Reax: NATO urges Karzai to tackle corruption
President Barack Obama has said his decision on strengthening the US deployment is close and that he will soon unveil a war strategy review.
NATO Secretary General Anders Fogh Rasmussen called for an "inclusive" and "accountable" administration in which "corruption has no place".
British Prime Minister Gordon Brown, whose country is the second largest contributor of troops after the United States, welcomed Karzai's swearing-in, but now wants to see him "deliver for all Afghans," a spokesman said.
UN Secretary General Ban Ki-moon said Afghanistan was at a "critical juncture."
"The Secretary-General sends his best wishes to the president and to the people of Afghanistan at this critical juncture in their history and reaffirms the determination of the United Nations to support Afghanistan's progress towards peace, stability and development," a statement said.
Karzai, who has built his presidential style on forging politically expedient alliances in the absence of strong institutions, reached out to chief rival Abdullah Abdullah and fellow presidential hopeful Ashraf Ghani.
But Abdullah, who has vowed not to work with Karzai, said the president had been installed by "an illegal decision" and could not meet expectations.
Karzai was declared re-elected on November 2 by his own officials after a UN-backed commission found nearly a third of votes cast for him on August 20 were fraudulent and his challenger Abdullah abandoned a run-off.