President Hamid Karzai vowed Tuesday that his new government would eradicate corruption and offered an olive branch to Taliban insurgents, launching his programme for another five years in office.
Under pressure from US President Barack Obama to wipe out corruption and world leaders to unify the war-torn nation, Karzai used his first appearance since electoral authorities declared him president to pledge a cleaner rule.
"Afghanistan has been defamed by corruption. Our government has been defamed by corruption," Karzai told a press conference flanked by his controversial vice president Mohammed Qasim Fahim, who is widely accused of rights abuses.
"We will strive, by any means possible, to eradicate this stain."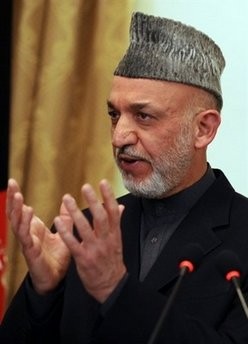 Afghan President Hamid Karzai has vowed that his new government would eradicate corruption and offered an olive branch to Taliban insurgents, launching his programme for another five years in office
Karzai was declared president for another five years after the cancellation of a run-off ballot by the country's election commission, which followed the withdrawal at the weekend of his only challenger, Abdullah Abdullah. Related article: US urges Kharzai on corruption
The president said it would have been better for Afghanistan to have had a second round following a fraud-tainted first election in August, and bemoaned Abdullah's withdrawal.
"We were hoping, and it would have been better for our country, for the democratic process and for us, if our brother Dr Abdullah had participated in the second round and the second round had taken place," Karzai said.
The 51-year-old president, whose warm relations with the West have cooled over corruption and spiralling insecurity, also urged his Taliban "brothers" "to come home and embrace their land".
The Taliban insurgency is now at its deadliest, contributing to record US fatalities eight years since the militia was driven out of Kabul by a US-led invasion, paving the way for Karzai to take power.
Obama and UN chief Ban Ki-moon led world powers in congratulating Karzai, but the US president called for "a much more serious effort to eradicate corruption" and a "new chapter" in cooperation between the two countries.
"This has to be (the) point in time in which we begin to write a new chapter based on improved governance," Obama said he had told Karzai in a telephone call.
Karzai "assured me that he understood the importance of this moment but... the truth is not going to be in words, it's going to be in deeds", Obama added.
The White House declared Karzai the "legitimate leader of the country" but said it would begin "hard conversations" with the new president, with Obama poised to decide on whether to deploy thousands more troops in coming weeks. Reactions: World powers stick by Karzai, US says fight corruption
The New York Times reported that the Obama administration was pressing Karzai to set up an anti-corruption commission, which would establish "strict accountability" for national and provincial government officials.
US and European officials are also seeking the arrests of what one US envoy termed "the more blatantly corrupt" people in government, the newspaper added.
Abdullah quit the contest on Sunday, saying there were no safeguards against a repeat of widespread fraud that resulted in the rejection of nearly a quarter of votes cast in August. Related article: Cash-strapped US media struggles to cover war
Karzai's anointment by the Independent Election Commission sought to draw a line under two months of political chaos in a war-torn nation where 100,000 NATO and US troops are battling the Taliban.
UN chief Ban met Karzai and Abdullah amid a concerted diplomatic push to bring a quick end to the paralysis, which has undermined Western efforts to cultivate democracy in Afghanistan.
IEC chief Azizullah Ludin, a Karzai appointee who oversaw the fraud-riddled first round, said the decision had been made in line with the provisions of Afghan electoral law and constitution and was "consistent with the high interest of the Afghan people".
There had been widespread unease about staging the November 7 run-off poll.
First-round turnout was as low as five percent on August 20 in areas worst hit by the Taliban insurgency. And with the militia threatening fresh attacks, the numbers voting this time could have been even lower.