Kenya's opposition on Friday said it would restart nationwide protests next week, setting the stage for a fresh showdown after international mediation failed to broker a deal with the government.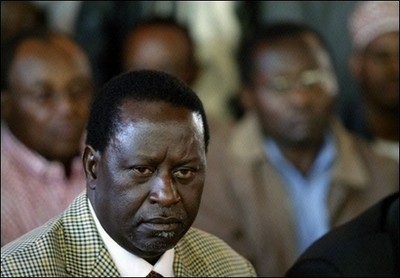 Orange Democratic Movement (ODM) leader Raila Odinga gives a press conference in Nairobi. Kenya's opposition has said it will restart nationwide protests next week, setting up a new showdown with police after international mediation failed to broker a deal with the government.(AFP/Tony Karumba)
Kenya's police chief immediately banned the protests, citing security reasons.
"Police think it is not appropriate at this time," police commissioner major general Mohamed Hussein Ali told journalists, shortly after opposition leaders called for three days of protests in some 30 towns across the country.
"The restrictions that we have had on post-election rallies are still in place," Ali added.
After violent clashes sparked by President Mwai Kibaki's disputed re-election on December 30, Kenyan police have thwarted several mass opposition protest rallies. The unrest has so far claimed some 600 lives and displaced around a quarter of a million people from their homes.
The crisis has shattered Kenya's image as a beacon of stability in a restive region and dealt a serious blow to the largest economy in east Africa.
Opposition leader Raila Odinga, who accuses Kibaki of rigging his way to a second five-year term, had called off protests as international efforts to broker a political settlement continued.
But when African Union-mediated talks ended in failure Thursday, Odinga's Orange Democratic Movement (ODM) struck back with promises of fresh protests.
"We are asking countrymen and women to join us Wednesday, Thursday and Friday next week from 10:00 in the morning," Anyang Nyongo, secretary general of Odinga's ODM, told reporters Friday. He announced a rally in a central Nairobi park for Wednesday.
With efforts to clinch a power-sharing deal between Kibaki and Odinga in limbo, the prospect of fresh rallies heightened fears of another round of deadly violence.
"Kenyans are entitled to protest peacefully," Nyongo said.
Kenyan police have so far taken a tough stance against opposition supporters, using tear gas and large deployments of its special paramilitary units to disperse gatherings.
Nyongo said the ODM's leaders were not afraid of being arrested.
African Union Chairman John Kufuor, who sought to mediate between Kibaki and Odinga, left Kenya after two days on Thursday with little to show for his efforts.
But he did get the two sides to agree to work with former UN chief Kofi Annan.
The top US Africa envoy Jendayi Frazer, who has been in Kenya for the past week, was expected to leave Friday.
"The United States is not going to back away, Kenya is our partner and we are going to keep asking both sides to keep seeking a solution," a US diplomat told AFP. "But we are going to let the (Annan) mediation take the lead."
Kibaki, who was sworn in for a second five-year term less than an hour after the results were announced last month, has wasted no time in forming a cabinet packed with close allies.
He presented the line-up as a "broad-based" cabinet, with opposition presidential challenger Kalonzo Musyoka as vice president. The ODM rejected it as a slap in the face of peace efforts.
At the ODM news conference, Nyongo urged the international community to place sanctions on Kibaki's government.
"You cannot trust a government that steals votes with the precious resources we get from our international partners," he said. "It's inappropriate to trust this government with a single cent."
No foreign power has so far come out strongly against Kibaki, with mediation efforts focused on urging Odinga to rein in his supporters and guarantee that violence will not flare up afresh.
At least one person was wounded by an arrow and six homes burned late Thursday near the western town of Kisii, Nyanza provincial police commander Grace Kaindi told AFP.
According to local security sources, the fighting pitted members of the Kisii tribe who supported Kibaki against members of the Kalenjin tribe, who sided with Odinga.
Kenya's police chief meanwhile said he had despatched police to investigate a raft of crimes committed during the rioting, with particular attention to murder, arson and incitement.
Ali added: "We in the police will monitor FM radio stations, particularly the vernacular ones, to see if they are being used to incite violence."
Relief efforts continued Friday in the worst affected parts of the country, with food distributions in the western town of Eldoret and in several Nairobi slums.