The state-run Korea Electric Power Corp. (KEPCO) on Sunday said it has signed a deal to buy a U.S. solar power plant, making inroads into the U.S. electricity market, source from Yonhap said August 28.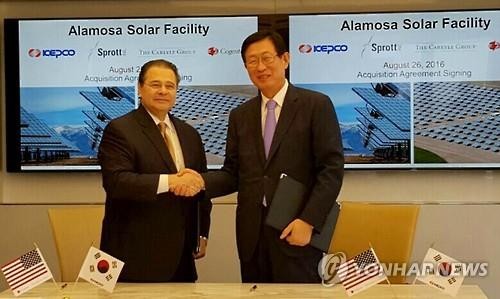 AKEPCO President Cho Hwan-eik shakes hands with Daniel D'Aniello, chairman and co-founder of the global alternative asset manager The Carlyle Group L.P., after signing a deal to buy a solar power plant at a meeting in New York on Aug. 26, 2016. (Courtesy of KEPCO
Under the deal with Cogentrix Energy Power Management, part of the Carlyle Group LP, KEPCO will buy a 30 megawatt solar power plant in Alamosa, Colorado.
The deal is estimated at US$34 million.
KEPCO said it will be able to generate $230 million in sales over a 26-year period by selling electricity there. The Alamosa plant started its operations in 2012.
Last year, KEPCO logged 4.9 trillion won ($4.4 billion) in sales in overseas markets, and aims to rack up 20 trillion won in overseas sales by 2025.
KEPCO is engaged in a variety of overseas businesses, including coal-powered and nuclear-powered plants and resources development in 22 countries.