Key Sudanese presidential hopeful Yassir Arman has pulled out of April's vote, his ex-rebel group said Wednesday as President Omar al-Beshir ruled out deferring the first multi-party polls in 24 years.
The United States, Britain and Norway, meanwhile, issued a joint call urging all sides in Sudan to work for credible elections.
"The elections will not be postponed or cancelled. They will take place on time," Beshir told a political rally in Damazin, the capital of the Blue Nile state.
"Our partner (in the government), the Sudan People's Liberation Movement, agrees with us," that the presidential, legislative and municipal elections should be held as planned on April 11-13, Beshir added.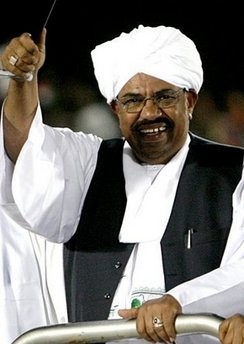 Sudanese President Omar al-Beshir, pictured in February 2010, on Wednesday ruled out any delay in Sudan's first multi-party elections in 24 years which is due to take place next month
But a few hours later an SPLM party officials dropped the bombshell, and announced that Arman was quitting the race.
"Yassir Arman has pulled out of the presidential race," a senior SPLM official told AFP, without providing reasons for the decision.
He said however that the SPLM will present candidates to regional and legislative elections "across Sudan, except for Darfur."
On Monday Arman accused Beshir of trying to tamper with the polls, after a contract to print ballots went to a state-owned press.
"The National Congress Party has done all in its capacity to falsify the presidential election," Arman told reporters.
South Sudan vice president and SPLM figure Riek Mashar also told a news conference that Arman was quitting the race.
"We withdraw our candidate to the presidency," he said after a meeting of the SPLM political bureau which also "decided to boycott the election process in Darfur.".
Arman, a secular Muslim from North Sudan was selected in January by his ex-rebel group to challenge Beshir in April's presidential election.
Earlier Wednesday a coalition of opposition groups warned that going ahead with the polls as scheduled would be, according to their spokesman Faruq Abu Issa, a "disaster."
Opposition groups say the conditions for a free and fair election are not in place and that insecurity in war-torn Darfur, in western Sudan, will also prevent participation of voters there.
"We stress the importance of postponing the elections until November in order to hold free and fair elections," said Mariam al-Mahdi from the opposition Umma party.
Human Rights Watch has said on that Sudanese government repression of its opponents and the media was threatening the chances of the elections being "free, fair, and credible."
Opposition presidential candidates and the SPLM were due to meet on Thursday to decide on whether they will boycott the election.
Boycotting the elections would secure the reelection of Beshir, who rose to power in an 1989 military coup backed by Islamists and who is wanted by the International Criminal Court for alleged war crimes in Darfur.
Britain -- Sudan's former colonial power -- and Norway -- a main provider of aid, joined the United States in expressing concern on Wednesday over the polls.
"We urge all parties in Sudan to work urgently to ensure that elections can proceed peacefully and credibly in April," US Secretary of State Hillary Clinton, British Foreign Secretary David Miliband and Norwegian Foreign Minister Jonas Store said.
"We are deeply concerned by reports of continued administrative and logistical challenges, as well as restrictions on political freedoms," they said.
The US, British and Norwegian foreign ministers also said the election should prove a "major milestone" in the 2005 agreement that ended a 22-year north-south civil war.
Under the peace deal, mostly Christian and animist southern Sudan obtained the right to hold a referendum in January 2011 on whether to break away from the Muslim-majority north.
On Monday, Beshir warned that an elections boycott by the SPLM former rebels would result in the north rejecting the south holding the referendum.