Prosecutors demanded a 40-year jail term Wednesday for Khmer Rouge prison chief Duch, as the former cadre made a final apology for his role in the deaths of 15,000 Cambodians at his torture centre.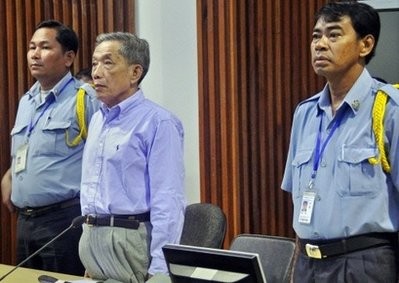 This picture taken and released by the Extraordinary Chamber in the Courts of Cambodia (ECCC), shows former Khmer Rouge chief of S-21, known as Tuol Sleng prison, Kaing Guek Eav, alias Duch (centre), standing in the courtroom at the Extraodinary Chambers in the Courts of Cambodia in Phnom Penh. (AFP Photo)
The country's UN-backed war crimes court heard closing arguments from both sides in its first trial delving into the horrors of the communist regime behind the "Killing Fields" atrocities three decades ago.
Under their leader Pol Pot, the Khmer Rouge wiped out nearly two million people through starvation, overwork and execution in their bid to turn Cambodia back to a rural "Year Zero" between 1975 and 1979.
Lawyers for the prosecution said expressions of remorse by Duch -- whose real name is Kaing Guek Eav -- did not amount to a full guilty plea for his time in charge of S-21, or Tuol Sleng, the movement's main prison.
"We submit... that the sentence to be submitted by this trial chamber should be 40 years in prison," prosecutor Bill Smith told judges.
"In imposing this penalty, you are not taking away the accused's humanity but you are giving it back to the victims of S-21," he said. "Let's recall that unlike the prisoners at S-21 he is being met with open and evenhanded justice."
Duch's crimes on their own warranted the maximum life sentence that the tribunal could impose -- but a previous period of unlawful detention should reduce that to a 45-year term, Smith said, explaining the prosecution's demand.
The 67-year-old's partial acceptance of responsibility and cooperation with prosecutors meant they had allowed a further reduction in their request to a sentence of 40 years, he said.
But he added that "no one should make the mistake that this case is equal to an unqualified guilty plea before an international tribunal."
Duch, formerly a maths teacher, faces charges of crimes against humanity, war crimes, torture and premeditated murder. A verdict is not expected until early next year.
After the prosecution finished its arguments, bespectacled Duch began his concluding remarks, sitting in the dock and recounting how Khmer Rouge leaders ordered people to be "smashed" during the regime's internal purges.
"To the survivors I stand by my acknowledgement to all crimes. As for the families of victims, my wish is that you kindly leave your door open for me to make my apologies," Duch said.
"In order to express my most excruciating remorse I have fully and sincerely cooperated with the court whenever it is needed of me."
The defence has sought to portray him as merely obeying orders to protect his life and those of his family -- while the prosecution has said he was the "personification" of the Khmer Rouge's "ruthless efficiency".
The trial has heard how inmates at S-21 -- a former high school -- had toenails and fingernails pulled out and had the blood drained from their bodies in primitive medical experiments.
Inmates were forced to give false confessions of betraying the regime or working for foreign intelligence services. Only around a dozen of the 15,000 men, women and children taken there are known to have survived.
Most prisoners were taken to a so-called "Killing Field", an orchard at Choeung Ek, near Phnom Penh, killed by a blow to the base of the neck with a steel club and then had their bellies sliced open.
The prison and the orchard now form a genocide museum.
The Khmer Rouge were toppled by Vietnamese troops and Vietnamese backed Combodian forces in 1979 but continued to fight a civil war for nearly two more decades. Pol Pot died in 1998.
For Cambodians the controversial tribunal, established in 2006 after nearly a decade of negotiations between Cambodia and the United Nations, is the last chance to find justice for the Khmer Rouge's crimes.
Duch has been detained since 1999, when he was found working as a Christian aid worker in the jungle, and was formally arrested by the tribunal in July 2007.
The joint trial of four other more senior Khmer Rouge leaders is expected to start in 2011.