Malaysia police performed a second autopsy on the body of North Korean leader Kim Jong-un's half brother, a news report said, as Pyongyang vowed not to accept the result of any autopsy, source from the Yonhap.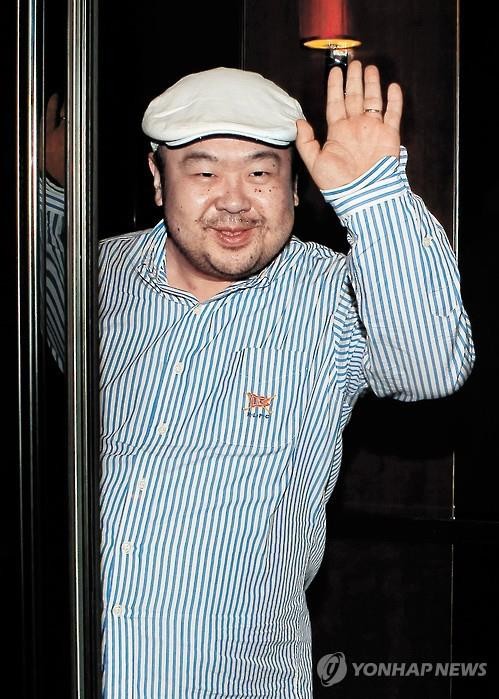 Shown is a file photo of Kim Jong-nam, the half brother of North Korean leader Kim Jong-un, at a restaurant in Macau in 2010. A press statement released by the Malaysian police on Feb. 14, 2017, said a 46-year-old North Korean named Kim Chol died the previous day on his way to a hospital from a Malaysia International Airport service counter where he sought initial medical treatment. Reports said Kim Chol, an alias used by Kim Jong-nam, was attacked by two unidentified women with chemical sprays. The suspects immediately fled in a taxi, and Malaysian police suspect North Korea was behind the killing. (Photo courtesy of JoongAng Sunday) (Yonhap)
Associated Press reported that the second autopsy started Friday night because the results of the first one were inconclusive, quoting an unidentified Malaysian official.
Still, there are conflicting media reports about an autopsy.
Oriental Daily News, a Malaysia-based Chinese-language daily, reported that police were planning to perform a second autopsy but said it was scheduled to be conducted at 9 a.m. Saturday.
The news reports came as Malaysian authorities failed to yield conclusive findings in the first autopsy on Wednesday, two days after Kim Jong-nam was killed. Malaysian police have not yet released an official postmortem report.
Kim Jong-nam, the eldest son of late North Korean leader Kim Jong-il, who has a different mother from the current leader, was killed in an airport in Malaysia on Monday after being attacked by two women who are suspected to have used some sort of poison.
It has yet to be confirmed whether North Korea was behind the latest killing, but Seoul's spy agency said Wednesday that Kim Jong-un issued a "standing order" to murder his sibling after he assumed power in late 2011.
Kang Chol, North Korea's ambassador to Malaysia, demanded that Malaysia immediately hand over the body, accusing Malaysia of trying to deceive the North while colluding with what he calls "hostile forces" trying to do Pyongyang harm.
"We will categorically reject the result of the postmortem conducted unilaterally excluding our attendance," the ambassador said while reading a statement in front of the mortuary of Hospital Kuala Lumpur.
Malaysia's police chief, Inspector-General Tan Sri Khalid Abu Bakar, has dismissed North Korea's accusation that his government was purposely delaying the process to release Kim Jong-nam's remains, the Bernama reported.
"While in Malaysia, everyone has to obey and follow our rules and regulations ... that includes North Korea," Khalid was quoted as saying, adding that the police must obtain a DNA sample from the Kim Jong-nam family in order to conclude the investigation.
Meanwhile, AP and Reuters reported that Malaysian police arrested and identified a 46-year-old man possessing a North Korean passport in Kuala Lumpur on Friday night in connection with the death of Kim Jong-nam.
According to Reuters, the man's name is Ri Jong-chol, born in 1970. Ri, the fourth suspect, was arrested on Friday night in Selangor state, according to the report. Malaysian authorities have already arrested three suspects in connection with the death of Kim Jong-nam.