Korean cultural centers hosted a wide range of events overseas to introduce foreigners to the country's customs and jointly celebrate the Lunar New Year, a government agency said Saturday.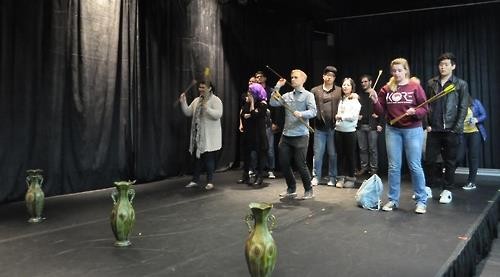 This photo, provided by the Korean Cultural Center in Los Angeles, shows foreigners taking part in a traditional Korean game on Jan. 24, 2017. (Yonhap)
The Korean Culture and Information Service said the events were held at 31 cultural centers across the world ahead of Lunar New Year's Day, which fell on Saturday this year.
"This year, many centers organized New Year's events that were tied to promoting the PyeongChang Winter Olympics, which are just a year away," said an official of the agency. "They've been focusing on promoting the Olympics by setting up a separate promotional zone or organizing a variety of related events."
In Los Angeles, the Korean cultural center there brought together some 200 Korean language students and their families on Tuesday to taste Korean food, try on Korean traditional attire and play traditional games.
In Tokyo, the center invited Japanese people on Saturday to make Korean crafts, play traditional games and take part in reenactments of ancestral rites carried out on New Year's Day.
The cultural center in the United Arab Emirates held its first New Year's program since its opening in March, while the center in Italy also held programs for two days through Friday following its opening in October.
The center in Poland is scheduled to host a similar program on Wednesday involving traditional games, writing New Year's cards and classes in calligraphy.