The leaders of The Democratic People's Republic of Korea (DPRK) and the Republic of Korea (RoK) wrapped up a rare summit Thursday calling for a nuclear-free peninsula and a permanent peace pact to close the world's last Cold War divide.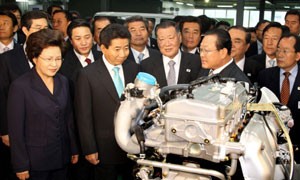 RoK's President Roh Moo-Hyun (2nd-L) and his wife Kwon Yang-Suk (L) tour the Nampo Pyeonghwa Motors' automobile factory during the two Korea Summit in Nampo, DPRK, Oct. 04, 2007.
The historic foes agreed to step up trade, travel and political exchanges, including starting a freight train between the DPRK and prosperous South and flights for the growing number of RoK's tourists.
"The South and North will not take a hostile stance towards each other and will reduce military tension and resolve issues of conflict through dialogue and negotiation," the joint declaration said.
It called for a summit by leaders of "three or four countries" to declare a formal end to the Korean War.
The United States and China also fought in the Korean War on opposite sides, meaning their signatures are necessary to finish it.
"The summit produced better results than many earlier predicted, especially in economic cooperation and peace," said Kim Yeon-Chul, a professor at Korea University's Asiatic Research Center.
He said the agreement was more detailed than that signed by Roh's predecessor Kim Dae-Jung in the first-ever inter-Korean summit in 2000.
"If both sides implement the new one faithfully, it will open a new chapter in inter-Korean relations," Kim said.
The two leaders also agreed to make joint efforts to ensure that agreements on shutting down the North's nuclear programme are implemented smoothly.
The statement means Kim Jong-Il has personally signed up to denuclearisation efforts almost a year to the day after his regime tested an atomic weapon for the first time.
In a six-nation agreement made public late Wednesday after negotiations in Beijing, the North agreed to declare all its nuclear programmes and disable its main atomic reactor by the end of the year under US supervision.
The joint statement called for more inter-Korean summits and set up meetings in November between their prime ministers in Seoul and defence ministers in Pyongyang.
The defence ministers will discuss the agreement's call to create a "peace zone" in the disputed western sea border -- scene of bloody naval clashes in 1999 and 2002.
On the economic front, Kim and Roh agreed to expand economic cooperation and construct a joint shipbuilding complex at Nampo southwest of Pyongyang.
They also said they would open a first direct air route -- from Seoul to Mount Paektu, a sacred mountain for Koreans which RoK's citizens can now reach only by transiting via China.
A cross-border railway line will also open for freight traffic.
The summit comes ahead of December presidential elections. The candidate of the conservative opposition, which often accuses Roh of "appeasing" the DPRK, has been well ahead in polls.