The leaders of Koreas opened summit talks Wednesday aimed at ending half a century of hostility amid signs of progress in efforts to shut down the Democratic People's Republic of Korea (DPRK)'s nuclear programme.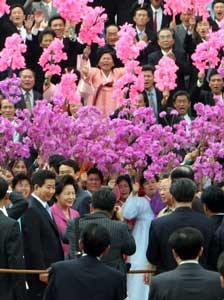 RoK's President Roh Moo-Hyun (L) and his wife Kwon Yang-Suk (2nd-L) meet with DPRK's Leader Kim Jong-Il (2nd-R-partly seen) during a welcoming ceremony in Pyongyang, Oct. 02, 2007.
Republic of Korea (RoK)'s President Roh Moo-Hyun and DPRK 's leader Kim Jong-Il shook hands before the meeting at the Paekhwawon Guest House in Pyongyang where Roh is staying, officials and pool reports said.
No formal agenda has been released for the summit talks, only the second in the history of the Koreas.
But Seoul says peace and prosperity will be the overriding themes of this week's three-day meeting between two nations that are still technically at war following their 1950-53 conflict.
Progress in six-nation nuclear talks could warm the mood.
The United States said Tuesday it approved an agreement reached Sunday in Beijing, under which DPRK gave a detailed plan to declare and disable its programmes in return for energy aid and diplomatic breakthroughs.
Japan called the provisional deal a step in the right direction.
The summit talks began just six days before the first anniversary of DPRK's atomic bomb test which stunned the world. But Roh has said the nuclear issue will not top the agenda as it is being tackled elsewhere and might sour the atmosphere.
Any peace declaration the leaders may agree will also be symbolic. A treaty formally concluding the war, which ended only in an armistice, also needs the signatures of co-belligerents the United States and China.
However, joint economic projects to revive DPRK's crumbling command economy will be high on the agenda. The South's per capita income is almost 17 times higher than the North, where millions rely on international food aid.
Officials say the two sides could agree on participation by the South in massive infrastructure and industrial development projects in the North.
Roh, who has doggedly pursued a "sunshine" engagement policy with the North despite its missile and nuclear tests, told a welcome dinner Tuesday that a new era of reconciliation and cooperation was dawning on the peninsula, divided by minefields and barbed wire.
On Tuesday he became the first Korean leader to cross the frontier on foot in a symbolic gesture, and on arrival in Pyongyang was unexpectedly greeted in person by Kim.