The pro-Kremlin United Russia party looked firmly in control as results came in Monday from regional elections that were marked by violent incidents and the absence of a serious opposition challenge.
United Russia had secured commanding leads in 13 out of 14 races, the ITAR-TASS news agency reported, citing provisional results from regional election officials.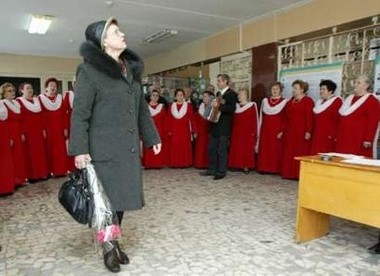 A voter at an election station to cast her ballot during regional elections in Russia's southern city of Stavropol March 11, 2007.
The polls in which 31 million people, or about a third of the electorate, were eligible to vote, were seen as setting the stage for nationwide legislative elections to the Duma lower house of parliament in December.
The December polls will in turn form the backdrop to a presidential vote to confirm a successor to President Vladimir Putin next March.
"The main result" of Sunday's vote "is that United Russia has remained the leading party.... It had no rivals in the majority of regions," the general director of polling agency VTsIOM, Valery Fyodorov, told the Interfax news agency.
The recently created pro-Kremlin party A Just Russia, headed by the speaker of the upper house of parliament, Sergei Mironov, was expected to win the remaining region, Stavropol, in southern Russia, according to provisional results.
One liberal opposition party, the Union of Right Forces, appeared close to crossing the seven-percent threshold needed to qualify for seats -- a controversial requirement resulting from recent legislation.
The other main liberal party, Yabloko, looked set to fail in all 14 regions.
For commentators the main intrigue was the acrimonious battle between the two pro-Kremlin parties, as well as numerous allegations of violations.
Mironov immediately alleged that votes had been unfairly stolen from his party.
In regions "where we have a very good position and expected a reasonable result there were the most violations by our opponents," Mironov said.
Newspapers noted an election-related shooting in which one person was injured in the unstable southern Russian province of Dagestan, while one election candidate was seriously injured in a stabbing in Saint Petersburg.
"The latest elections eclipsed all previous campaigns in their scandalousness.... The amount of falsification, black PR, open criminality, pressure and threatening of opponents was simply too great," said the Gazeta newspaper.
"The election process overall has become meaningless in its present form," Gazeta concluded.
The Kommersant newspaper said the election had turned into a battle over which party could make the most complaints about violations by its opponents.
"While most of the campaigns occurred completely peacefully, the most typical violations were buying of voters and bringing them in groups to polling stations," Kommersant said.
"In practically all regions A Just Russia proved to be the most active complainant, flooding election commissions with damning statements about United Russia," the paper said.