Cambodia's war crimes court said Tuesday that it would hear evidence next month in the long-awaited trial of four former Khmer Rouge leaders accused of genocide and crimes against humanity.
The UN-backed tribunal will start hearing opening statements from all parties on November 21, followed by evidence presentation on November 28.
"This is obviously a moment that the Cambodian people have been waiting for," said tribunal spokesman Lars Olsen.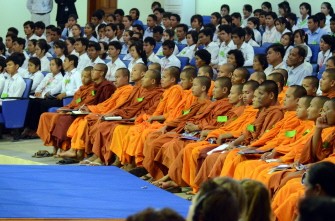 This handout photo taken and released by the Extraordinary Chamber in the Courts of Cambodia (ECCC) on October 19, 2011 shows Cambodian Buddhist monks the courtroom at the ECCC in Phnom Penh during a hearing of former Khmer Rouge leader Brother Number Two Nuon Chea.
The accused -- including "Brother Number Two" Nuon Chea and former head of state Khieu Samphan -- deny charges of war crimes, crimes against humanity and genocide over the deaths of up to two million people in the late 1970s.
Amid fears that not all of the ailing defendants, aged 79 to 85, will live to see a verdict, the court last month divided their complex case into a series of smaller trials to speed up proceedings.
Next month's first trial will focus on the forced movement of population and the related charges of crimes against humanity.
But the prosecution and the defence will be allowed to address all the charges in their opening statements.
The trial against the four officially opened with an initial hearing in late June but has been held up by preliminary legal objections and health issues.
The court is expected to announce in the coming weeks whether defendant Ieng Thirith, a former social affairs minister, is fit to stand trial after a medical expert said she suffers from dementia.
Nuon Chea, seen as the regime's chief ideologue, is also contesting his ability to be tried and has said he has trouble concentrating and sitting for long periods.
The trial comes as the tribunal, seen as vital to providing some justice for the traumatised nation, is mired in controversy following a judge's shock resignation on October 9 citing government interference at the court.
A senior UN legal official is travelling to Phnom Penh later this week to address those concerns.
In its historic first trial, the court sentenced former prison chief Kaing Guek Eav -- also known as Duch -- to 30 years in jail last year for overseeing the deaths of 15,000 people. The case is now under appeal.
Led by "Brother Number One" Pol Pot, who died in 1998, the Khmer Rouge wiped out nearly a quarter of the population through starvation, overwork or execution in a bid to create an agrarian utopia.