Concerns grew Tuesday over fate of tens of thousands of refugees who have fled the bitter ethnic fighting in south Kyrgyzstan even as the first signs emerged of a slackening of the violence.
Uzbekistan has struggled to cope with tens of thousands of ethnic Uzbek refugees who crossed the border to escape the clashes that have left at least 170 people dead and almost 1,800 wounded.
With estimates of up to 100,000 people already inside Uzbekistan after fleeing the southern cities of Jalalabad and Osh, the Central Asian state said the border would be shut, despite pleas from aid groups to leave it open.
The ambassadors of the UN Security Council called for a return of the rule of law to Kyrgyzstan while Russia warned that the "intolerable" situation in the country risked spinning out of control.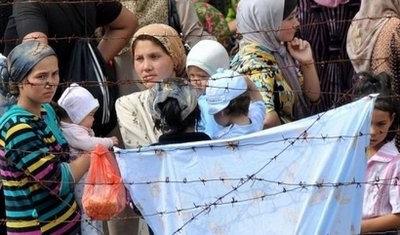 Ethnic Uzbek refugees stand at the Kyrgyz-Uzbek border, south of Osh on June 14, 2010
There was sporadic gunfire in Osh during the night and tension remained high in the city on Tuesday. But only a few gunshots were heard as a prisoner exchange took place, in contrast to the steady firing of recent days.
Both the United States and Russia maintain vital military facilities in Kyrgyzstan, an ex-Soviet republic of pivotal strategic importance in the volatile Central Asia region, notably to NATO operations in Afghanistan.
AFP journalists watched as a group of around 20 ethnic Kyrgyz men and the same number of Uzbek men approached each other across the empty no-man's land separating the two ethnic groups in this devastated southern Kyrgyzstan city.
Each group accompanied one woman. They met and quickly exchanged the women before turning around and walking back to their neighborhoods in an exchange that local residents said was a "prisoner swap."
Minutes later, a group of around 10 Uzbek men, one wounded with his arm in a sling, emerged from the Kyrgyz side of the city and walked across the same void of several city blocks before climbing into a blue bus on the Uzbek side.
A cluster of local ethnic Uzbeks observing the scene said the men were "hostages" who had been let go by their ethnic Kyrgyz captors.
As the exchanges took place, men in the Uzbek enclave were busy felling trees and erecting new barricades of logs, cargo containers and wrecked vehicles in the streets to protect their homes and shops.
Local Uzbek residents said they had seen fresh corpses on streets just outside the protected perimeter of their neighborhood but said it was still too dangerous for them to move into the area to retrieve the bodies.
AFP reporters said there was no sign of Kyrgyz military, police or any other representatives of the national government in the ethnic Uzbek sectors of Osh.
The Osh regional police chief however said the violence in and around the city seemed to have receded overnight, while officials in the flashpoint city of Jalalabad further to the north had similar comments.
"There is a slow but growing stabilisation in the south of Kyrgyzstan," police chief Omurbek Suvanaliyev said.
He acknowledged however there were still "difficulties" in evacuating sick, wounded, elderly, women and children from the embattled city.
The governor of the Jalalabad region, Bektur Asanov, said the situation had stabilized there, too, following several days of carnage.
"Last night passed calmly without incidents, except for a few cases of provocations that were unsuccessful," Asanov said on national television.
According to the latest toll from the Kyrgyz health ministry 170 people have been killed in the violence in Osh and Jalalabad and 1,762 wounded.
Amid horror over the humanitarian situation, the UN Security Council's 15 ambassadors urged "calm, a return of rule of law and order and a peaceful resolution of differences," according to Mexican Ambassador Claude Heller.
The International Committee of the Red Cross (ICRC) head of operations for Central Asia and Eastern Europe Pascale Meige Wagner warned "we're far from seeing the end of this crisis."
"We hear extremely worrying stories about people targeted -- there is a will to harm and kill that is going in Kyrgzystan."
UN High Commissioner for Human Rights Navi Pillay urged Uzbekistan as well as Tajikistan to keep its borders open "to anyone, irrespective of age or gender, who is in need of sanctuary," said her office in a statement.
Russian President Dmitry Medvedev, speaking after an urgent meeting of a Russia-led regional security body, called the situation in Kyrgyzstan "intolerable" and said it was necessary that it be brought under control
Another senior Russian official, Nikolai Patrushev, said the Russia-led Collective Security Treaty Organisation, a group of ex-Soviet republics led by Russia, "did not rule out" any means to stabilize Kyrgyzstan.
Plans for some kind of military intervention were prepared at an emergency CSTO meeting, Patrushev said, and could be implemented at any time following approval by the heads of state of the group's members.