Kyrgyz troops and police were patrolling hot-spots in the south of the country Sunday with a green light from the interim government to shoot to kill to quell continuing ethnic unrest.
A government decree issued Saturday said lethal force would be authorised to repel attacks against the authorities, stop the destruction of government and private property and protect civilians.
"The violence, the number of pillages and massacres are growing...," said the decree.
"If we do not take opportune and effective measures the unrest could become much more serious and descend into a regional conflict."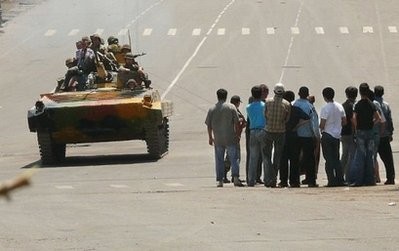 Kyrgyz soldiers on an armoured vehicle drive past a group of people in Osh.
Interim President Roza Otunbayeva earlier appealed to Moscow to intervene militarily after at least 79 people were reported killed and more than 1,000 wounded, according to the health ministry, in nearly three days of unrest.
"Since yesterday the situation has got out of control," said Otunbayeva in a nationally televised address.
"We need outside military forces to halt the situation. For this reason we have appealed to Russia for help."
But while Moscow said it was rushing humanitarian aid to the Central Asian. former Soviet republic, a spokeswoman for President Dmitry Medvedev said it would not yet send troops, Russian news agencies reported.
"This is an internal conflict and Russia does not yet see the conditions for its participating in resolving it," Natalya Timakhova said.
A decision to dispatch peacekeepers could be taken only after consultations with the United Nations, she added.
The provisional government has struggled to impose order in the Central Asian state since seizing control during riots that ousted President Kurmanbek Bakiyev in April.
The authorities on Saturday declared a second state of emergency in the southern city of Jalalabad.
Deputy Interim Minister Azimbek Beknadzarov said on national television that this had become necessary because the instability was spreading.
The violence first erupted in the Osh region late Thursday when brawls between ethnic Kyrgyz and ethnic Uzbeks escalated into running street battles, prompting the government to impose a curfew and state of emergency.
Cars were smashed and burned, and buildings set on fire, in the city, which was once the stronghold of Bakiyev.
An AFP reporter witnessed thousands of Uzbek women and children at the nearby border with Uzbekistan, and the Red Cross has already raised the spectre of a humanitarian crisis.
"Things are getting worse and worse by the hour," said Severine Chappaz, the deputy head of the International Committee of the Red Cross (ICRC) mission in Kyrgyzstan.
"We hear reports of tens of thousands of people fleeing the fighting and looting, and heading towards the Kyrgyz border with Uzbekistan."
The European Commission Saturday announced that it would send an humanitarian expert to evaluate the situation and determine what aid was needed.
Uzbekistan itself meanwhile voiced "extreme alarm" Saturday at the violence, calling it an organized bid to inflame ethnic tensions.
People reached by telephone in Osh described an increasingly violent and chaotic situation, with gunfire echoing across the city amid what seemed to be a near-total collapse of central authority.
"The situation here looks terrible," said Andrea Berg of Human Rights Watch, who has been trapped in a guest house in Osh since the fighting began.
"The government doesn't have any more control over the city. It's war," she added.
On Sunday morning, however, regional police official Batybek Alymbekov sounded a note of cautious optimism that the worst of the fighting in Osh had ended, saying the the region was now under government control.
"At the current moment, there are no armed conflicts. There are small gunshots but nothing based on ethnic grounds," he said.
Unrest had also spread to the northern capital Bishkek, where one medical official told AFP that 27 people had been hospitalised Friday.
Since April's uprising, which ousted Bakiyev and left 87 people dead, foreign leaders have warned of the danger of civil war in the strategically vital state, which hosts both US and Russian military bases.
The United States, whose air base outside the capital Bishkek is critical to its war in Afghanistan, on Saturday renewed its calls for a swift return to order.
"The United States is closely monitoring developments in the Kyrgyz republic and calls for a rapid restoration of peace and public order...," State Department spokesman Philip Crowley said in a statement.