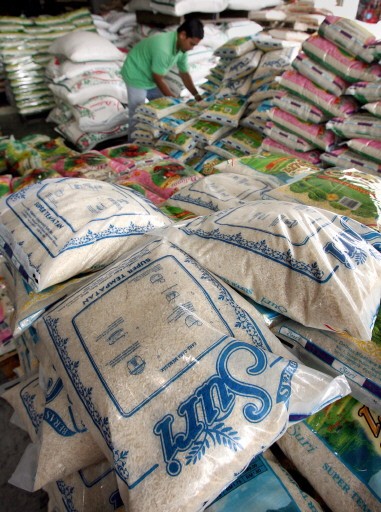 A rice store in malaysia (AFP Photo)
Leaders and representatives of several South and Central American nations are preparing to meet here to discuss a regional strategy to avert the food crisis affecting poor nations around the world, officials have said.
The meeting on Wednesday hosted by Nicaraguan President Daniel Ortega will study emergency measures Latin America can take to ensure domestic supplies of staple foods, as well as establishing fair prices for the region's food exports, in view of the ongoing crisis, said Nicaragua Agriculture Minister Ariel Bucardo.
But one of the summit's biggest names, Venezuelan President Hugo Chavez announced late Tuesday that he would not attend because of illness.
Nicaragua's Foreign Minister Nicolas Maduro said that Chavez was suffering from physical exhaustion due to overwork.
The Venezuelan leader last month announced a 100 million dollar donation toward a cereal production boosting program for Central America and members of the ALBA trade group -- Venezuela, Bolivia, Nicaragua and Cuba.
Costa Rica's Deputy Agriculture Minister Roman Solera said the measures to be discussed included Chavez' proposal to create a "cereal fund" for Central America, which he said needed some 630 million dollars to get the 2008-2009 farming cycle under way.
Roman added that the region was greatly underfunded for long-term investment in farming infrastructure, including storage and transport of goods. Cuba and Mexico, he added, have offered their technological know-how in the effort.
Rising shortages of basic grains, milk and foodstuffs that have led to deadly violence in developing countries was described Tuesday as perhaps "the first global humanitarian emergency," by World Food Program chief Josette Sheeran in Washington.
WFP is seeking contributions for a 755-million-dollar emergency fund while the UN Food and Agriculture Organization is trying to raise 1.7 billion dollars to provide seeds to the poor and boost output.
Global food prices have nearly doubled in three years, according to the World Bank, sparking riots and protests in several poor countries.