A lawyer says Haiti has dropped kidnapping charges against nine of the 10 U.S. missionaries who were arrested trying to take a busload of children out of the quake-ravaged country.
The group's leader, Laura Silsby of Boise, Idaho, remains jailed in Haiti. The other nine were let go in February and early March and allowed to leave the country.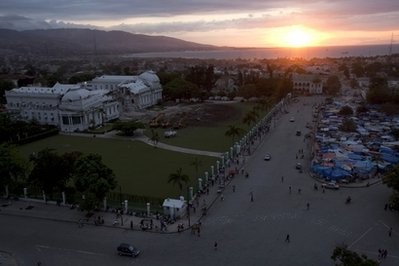 The sun sets over the harbor with the destroyed Presidential Palace visible at left, and at right a makeshift camp for displaced people, in Port-au-Prince, Thursday April 15, 2010. Over a million Haitians are living as internally-displaced people following the recent earthquake
Caleb Stegall, an attorney for three of them, told The Associated Press on Thursday that a senior State Department official informed him of the dropped charges.
The AP was not immediately able to reach the presiding judge for confirmation.
The Baptist missionaries were halted Jan. 30 trying to take 33 children to an orphanage they were setting up in the Dominican Republic.