PARIS, Sept 12, 2011 (AFP) - A lawyer with ties to African leaders declared on Monday he had personally handed over $20 million dollars in cash to French former president Jacques Chirac and his close ally Dominique de Villepin.
Robert Bourgi said in an interview with Europe 1 radio the money came from several presidents of France's former African colonies, and was handed over to the centre-right politicians in stages between 1995 and 2005.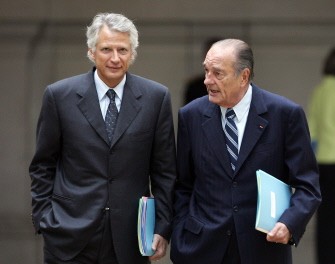 AFP (FILES) - A picture taken on January 17, 2007 shows then French President Jacques Chirac (R) chatting with then Prime Minister Dominique de Villepin as leaving the Hotel Marigny after the weekly ministers council.
Insisting he was coming forward now because he wanted a "clean France", Bourgi said the system of kickbacks had also existed under former presidents Georges Pompidou, Valerie Giscard d'Estaing and Francois Mitterrand.
He said he could not estimate how much had been handed over before he became directly involved, but could speak about the deliveries he said he had made to Chirac's office when he was mayor of Paris and later to Villepin.
"I'd estimate at around 20 million dollars what I handed to Mr Chirac and to Dominique de Villepin," he told Europe 1, fleshing out the detail of claims he had already made in a newspaper interview that appeared on Sunday.
The allegations, which were furiously denied by Chirac and Villepin, come just seven months before France's presidential election, in which President Nicolas Sarkozy could face a Villepin challenge from within the right.
Bourgi is widely reported to be close to Sarkozy, but insisted in the interview that he was neither an official nor unofficial advisor to the president, simply someone who was sometimes consulted for an opinion.
Chirac and Villepin have said they will lodge lawsuits against Bourgi.