ASTANA, June 14, 2011 (AFP) - Kazakhstan on Tuesday prepared for a summit of a security group regarded as a rival of NATO that is to see rare encounters between the Chinese and Russian leaders with Iranian President Mahmoud Ahmadinejad.
Ahmadinejad, attending the summit despite political problems at home, has already arrived in the Kazakh capital Astana along with Chinese President Hu Jintao who has been on an official visit to Kazakhstan, state media said.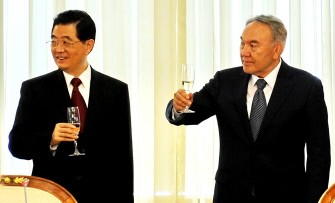 AFP - Kazakh President Nursultan Nazarbayev (R) and his visiting Chinese counterpart Hu Jintao (L) raise their glasses in a toast during a document signing ceremony in Astana, on June 13, 2011.
The Shanghai Cooperation Organization (SCO) was set up in 2001 as a security counterweight to NATO that would allow Russia and China to rival US influence in Asia. But increasingly, it is looking to cooperate at an economic level.
Its membership also includes ex-Soviet Central Asian states and with the likes of India, Iran, Mongolia and Pakistan attending meetings as observers, its summits bring together an eclectic gathering of world leaders.
Kazakh President Nursultan Nazarbayev is due Tuesday to meet guests including Ahmadinejad, Afghan President Hamid Karzai, Pakistan President Asif Ali Zardari and Russian President Dmitry Medvedev for bilateral talks, the presidency said.
The tenth anniversary summit then opens for a full day of business on Wednesday.
"The summit does not have a rigid agenda, the participants can discuss any current topics," said Medvedev's top foreign advisor Sergei Prikhodko, indicating that the situation in Afghanistan would loom large in the talks.
Karzai is attending as a guest.
Much attention is likely to be focused on Ahmadinejad, making a rare appearance at a big international meeting despite problems at home over criticism of his inner-circle by hardline conservatives.
Ahmadinejad was absent from last year's meeting in Tashkent after the UN Security Council agreed new sanctions over the controversial Iranian nuclear drive.
But he attended the 2009 edition in Russia despite post-election unrest at home.
Tehran used to rely on Moscow as a dependable ally in its standoff over the nuclear programme but relations have rapidly deteriorated as Russia increased pressure on Iran during the Medvedev presidency.
The Kremlin has said a rare bilateral meeting between the two men is not excluded on the sidelines of the summit while a meeting between Ahmadinejad and Hu may also be possible.
The observer SCO nations have expressed desire to become full members of the group but Prikhodko said it was still too early for any decision on enlargement to be taken at the Astana summit.
"So far no such decisions have been taken," he said.
The summit is the latest in a string of big international meetings hosted by Astana, Kazakhstan's shiny new capital, which in the last months has already welcomed a summit of the OSCE and the annual meeting of the EBRD.
Kazakhstan has embarked on a tireless campaign of self-promotion to show itself as Central Asia's most stable and prosperous state although rights activists complain the country shows little tolerance for any dissent.