COPENHAGEN (AFP) – A group of around 30 world leaders and senior diplomats resumed talks at the UN climate summit Friday on a draft pact to combat climate change, diplomatic sources said.
The resumption came shortly before President Barack Obama landed in Copenhagen to join around 120 heads of state and government seeking to nail down an agreement.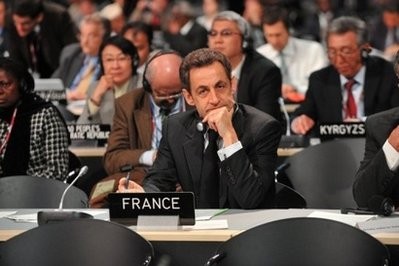 French President Nicolas Sarkozy attends a session of the UN climate talks (AFP photo)
A European delegate said that the draft contained a call for preventing a rise in global temperatures of more than 2.0 degrees Celsius (3.6 degrees Fahrenheit) compared to pre-industrial times.
But he said there were few specifics on mitigation efforts nor on funding.
"Basically its become clear its going to be just a political declaration, its short on detail at the moment," he told AFP on condition of anonymity.
Hopes for the last day of UN climate talks were earlier raised by a US pledge to a climate finance fund, but leaders still warned of failure amid debate on sharing the burden of carbon-emissions cuts.
US Secretary of State Hillary Clinton brightened a grim summit mood by saying the United States would contribute to a long-term fund worth 100 billion dollars a year by 2020 to help poor countries fund cleaner technology and shore up defences against worsening floods, drought, storms and rising seas.Related article: US pledges $100 billion
The pledge was contingent on an ambitious overall deal being completed at the talks, however, which French President Nicolas Sarkozy warned Thursday faced a looming disaster in the wake of the divisive emissions debate.
"There is less than 24 hours. If we carry on like this, it will be a failure," Sarkozy cautioned angrily from the conference podium. "Failure at Copenhagen would be catastrophic for all of us."
An internal UN memo seen by AFP meanwhile showed national pledges for reducing greenhouse gas output would doom the world to warming of as much as three degrees Celsius (5.4 degrees Fahrenheit) compared to pre-industrial times.
Scientists say such a rise would be disastrous, condemning hundreds of millions of people to worsening drought, floods and storms. Nations most at risk from rising sea levels have been pushing for commitments to limit the rise to no more than 1.5 C (2.7 F).
Obama left late Thursday on an overnight flight to to Copenhagen on the presidential aircraft, Air Force One, from Andrews Air Force Base.Related article: Obama heads to Copenhagen
He will spend only a few hours on the ground, but aides are billing the visit as a sign that the United States, long condemned for foot dragging on climate change, is now a leader.
The president is also wagering valuable domestic political capital on his trip: his team will hope for no repeat of his last quick visit to Copenhagen to lobby for Chicago's Olympics bid, which ended in embarrassing failure.
"Coming back with an empty agreement would be far worse than coming back empty-handed," said White House spokesman Robert Gibbs before Obama left Washington.
Clinton, in Denmark, accused developing nations -- without naming them -- of backsliding on pledges to open their promised controls on carbon emissions to wide scrutiny.
The question is "a deal-breaker for us," she said.
China and India say they are willing to take voluntary measures to slow their surges in heat-trapping greenhouse-gas emissions.
But they are reluctant to accept tough international inspection and insist rich nations shoulder the main burden by accepting huge reduction targets.
"We should not continue to dwell on these issues that are dividing us. We should narrow our differences, otherwise we are facing a failure," Chinese Vice Foreign Minister He Yafei told reporters.
The sole glimmer of hope in the darkening mood remained the progress on climate finance funding.
In response to Clinton's announcement, the G77, the major bloc of developing countries, said the US proposals were "a good signal" but still not enough.
The European Union called for all parties "to urgently go to the outer limits of their flexibility" so that talks could advance, and called for an emergency meeting of "relevant players" late Thursday in a bid to break the deadlock.
UN chief Ban Ki-moon tried to talk up the prospects of an agreement, saying he had "not seen anything that indicates we cannot seal a deal."
"There are more than 130 leaders here. If they cannot seal a deal, who can?"
After earlier expressing doubt that the summit would pin down an agreement to cap global warming at two degrees Celsius (3.6 Fahrenheit), German Chancellor Angela Merkel said leaders could forge a deal but added that "we will not be able to work out all the little details".
The United States was widely condemned for foot-dragging on climate change under former president George W. Bush, and Obama is hoping his presence at the finale here will be evidence of a transformation of policy.
EU Commission chief Jose Manuel Barroso said he expected Obama to announce further US action to push things forward "because if they don't do it, others will find an excuse also not to move."
A senior Obama administration official said he did not expect the president to unveil more specific commitments on financing.
Opposition lawmakers in the US Congress also fired a warning shot at the administration and the global community, reminding that the president "does not have authority to bind the United States in any international agreement."
Republican Senator Jon Kyl underlined that the US Constitution requires Senate ratification of treaties, and that measures that affect government revenues typically need companion US legislation to be enforced.