Lebanon was on a knife-edge on Monday after days of deadly sectarian battles that have driven the nation to the brink of civil war, as Arab ministers prepared to send in a team to try to end the crisis.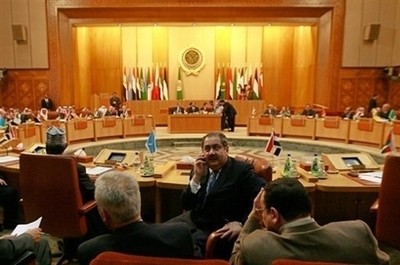 Arab foreign ministers holding crisis talks in Cairo were divided on Sunday over a draft resolution implicitly condemning Hezbollah for deadly clashes in Lebanon, delegates said (AFP Photo)
While Beirut was calm, Lebanese troops moved into the Druze mountains southeast of the capital after supporters of the Western-backed government and the Hezbollah-led opposition engaged in heavy fighting on Sunday.
Many people have fled the region, where homes were hit by rockets, shop windows broken and cars set ablaze in the weekend firefights.
"Even the Israelis didn't do this to us," said one elderly Druze woman in the town of Shwayfat. "They (Hezbollah) came into our homes, terrified our children and broke everything."
In Beirut, there was an uneasy calm although schools and some businesses remained shut following five days of unrest that has left 47 people dead and scores wounded in the worst sectarian violence since the 1975-1990 civil war.
The showdown between Hezbollah and the ruling bloc saw the powerful Shiite militant group seize large swathes of Muslim west Beirut last week, dramatically raising the stakes in the country's 18-month political crisis.
Clashes turned deadly in Beirut last Thursday after Hezbollah's leader Hassan Nasrallah accused the government of effectively declaring war against his party, and spread to other parts of Lebanon at the weekend.
But opposition fighters withdrew from the capital's streets on Saturday after the Lebanese army acted to overturn two government measures against the Iranian- and Syrian-backed Hezbollah that triggered the fighting.
Some barricades put up by Hezbollah fighters and their allies remained and the road to Beirut international airport was shut for the sixth straight day, reflecting a continuing protest campaign by the opposition.
The Masnaa border crossing with Syria was also blocked.
Lebanon's political standoff, which erupted in November 2006 when six pro-Syrian ministers quit, has left it without a president since November, when Damascus protege Emile Lahoud stepped down at the end of his term.
Lebanon's parliament is due to meet on Tuesday in its 19th attempt to choose a successor to Lahoud but it is now not clear whether the session will take place.