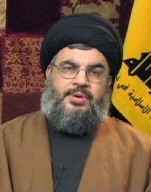 A video grab from TV shows the group's secretary general, Hassan Nasrallah calls for mass demonstration on Thursday.(AFP Photo)
The Lebanese opposition called for mass demnonstrations Friday in support of its demands for the rump pro-Western cabinet to be replaced by a government of national unity.

"The opposition forces, on the basis of their constitutional rights, call on all Lebanese, whatever their religious confession, to demonstrate peacefully in an open-ended sit-in from 3 pm (1300 GMT) Friday for a national unity government," said an opposition statement carried by Hezbollah television.
The statement said the main job of the new government should be to draw up a new electoral law.
The six pro-Syrian ministers in the cabinet pulled out two weeks ago in protest at the failure of cross-party talks to agree to their demands for a national unity government, including an allied faction then already in opposition.
The opposition factions had threatened to take to the streets last week but postponed their plans after the November 21 assassination of anti-Syrian industry minister Pierre Gemayel.
His killing instead brought hundreds of thousands of government supporters on to the streets two days later in an outpouring of anger at neighbouring Syria and its allies among the opposition, including Shiite militant group Hezbollah.
The customary mourning period for the slain minister was due to end later Thursday, one week after the funeral.