Economist Rafael Correa was sworn in as president vowing to renegotiate Ecuador's foreign debt and call a constitutional convention, as Latin leftists and Iran's president looked on.
"We will renegotiate Ecuador's foreign debt as a strong and sovereign nation," he said, referring to the country's 10.3 billion-dollar foreign debt, about 25.3 percent of gross national product.
The leftist also plans to rewrite the 1998 constitution.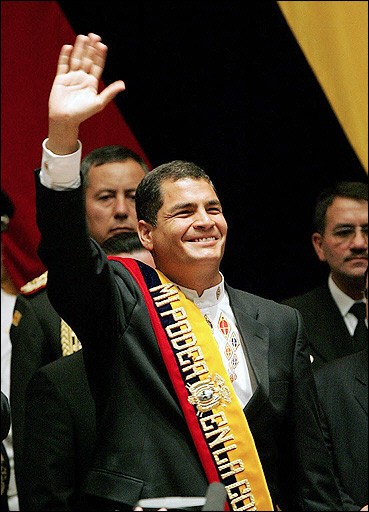 Ecuador's new president Rafael Correa
"I will hold a plebiscite allowing the sovereign, Ecuadoran people to choose whether to seat a Constitutional Assembly with the power to surmount the political and social problems this country is mired in," he said.
As his first measure in office, Correa issued a decree slashing the salary of top government officials, including himself, by half, meaning Correa will receive 4,000 dollars per month and his 17 cabinet officials, including seven women, no more than 3,500 dollars per month.
The defense portfolio, for the first time in Ecuador's history, will be headed by a woman, Socialist Guadalupe Larriva.
Correa, 43, took the oath of office in the presence of 11 presidents, including fellow Latin American leftists Evo Morales of Bolivia, Luiz Inacio Lula da Silva of Brazil, Michelle Bachelet of Chile, Daniel Ortega of Nicaragua, Tabare Vazquez of Uruguay, Hugo Chavez of Venezuela and the most controversial guest, Mahmoud Ahmadinejad of Iran.
The Iranian president is on a swing through Latin America seeking common ground with other leaders resisting US foreign policy as applied by US President George W. Bush.
Ahmadinejad traveled from Nicaragua, where he promised Iranian aid.
Like Ahmadinejad, who usually appears in public in a suit and shirt with no tie, Correa also was tieless at the inauguration ceremony held in the town of Mitad del Mundo (Half the World), just outside Quito.
Correa won his term, which ends in 2011, in November when he beat pro-US candidate Alvaro Noboa, a banana magnate and Ecuador's richest man. He replaces Lucio Gutierrez and becomes the eighth president in 10 turbulent years.
In that time, Ecuador defaulted on its debt in 1999 and opened trade talks with the United States -- only to have Washington balk when Ecuador raised taxes on foreign oil companies.
However, Correa repeated plans not to renew US free-trade talks and to allow a lease to lapse for a US air base on the Pacific Coast that is mainly used to track illicit drug shipments when it comes due in 2009.
Correa promised "a rapid, deep and radical revolution" to reverse free-market policies prescribed by the International Monetary Fund.
The new president said he would pay off Ecuador's debt to the multilateral lender and then cease future dealings with it.
Correa reiterated policies of the more vocal South American leaders, such as Chavez and Morales.
"It is a miracle that the servile, neoliberal democracies of clay are collapsing and a proud, free, sovereign, just and socialist Latin America of the 21st century is resurging," he said.
"The citizens' revolution has begun and can be stopped by no one," Correa said.
Legal experts say the new president may run into trouble with his plan to call a Constitutional Assembly without consulting Congress, an act opponents call "illegal."
He has also suggested to his South American colleagues who are planning a South American Community of Nations that it be headquartered in Quito, along with its proposed central bank.