Trying the five men accused of the September 11 attacks poses a unique challenge to US prosecutors forced to sift through torture-tainted evidence to present before a jury of New Yorkers still scarred by the strikes.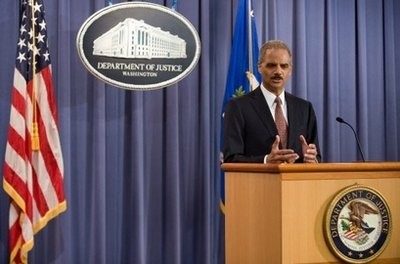 US Attorney General Eric Holder holds a press conference at the Justice Department in Washington, DC. (AFP Photo)
Friday's announcement also sent President Barack Obama's Republican foes but also some of his Democratic allies howling and was blasted by families of the nearly 3,000 victims of the strikes.
Attorney General Eric Holder vowed the co-conspirators would stand trial "before an impartial jury" and expressed confidence that "we're going to be successful in the prosecution efforts."
But some lawyers expressed doubts after the Obama administration announced that the five men, including mastermind Khalid Sheikh Mohammed, would be tried in a US federal court in New York.
The trial will open just steps from Ground Zero, once the home to the World Trade Center destroyed in the attacks.
"It is inconceivable that we would bring these alleged terrorists back to New York for trial, to the scene of the carnage they created eight years ago, and give them a platform to mock the suffering of their victims... and rally their followers to continue waging jihad against America," said Senator Joe Lieberman, an independent who usually votes with the Democrats.
Suzanne Lachelier, a military attorney for the men, said she was "very worried that it will not be possible to find jurors who have no opinion and who have not suffered from the attacks."
Beyond finding an objective jury in a city still traumatized by the attacks, a myriad of other problems face prosecutors, including the reliability of the evidence at hand.
During his years in US custody, Sheikh Mohammed was subjected to harsh interrogation techniques, and was waterboarded 183 times.
"Torture can be a means to dismiss the case," warned Adam Thurschwell, a death penalty expert who is part of the defense team.
Holder said he expected to push for the death penalty against the five currently held at Guantanamo, where they have already been charged with murder under the military commissions system.
Mohammed and his co-defendants spent years in secret CIA prisons where they were subjected to other interrogation methods, such as sleep deprivation, being forced to stand for long hours in uncomfortable positions or played loud music incessantly.
Given the sensitivity of the case, few experts believe the assigned New York judge would throw it out. But because the post is a life appointment, the judge is independent and free to act as he or she thinks best under the law.
Now that the Obama administration has decided to move the case onto American soil, prosecutors will have to begin the painstaking task of building a case to put before a jury.
"If the prosecution wants to use evidence of later statements, they would have hearings on its admissibility that might require the torture statements to be disclosed," said Thurschwell.
"Torture plays a mitigating role because all of the details of what happened to the defendant are relevant in the sentencing phase."
The defense could argue that any declarations by their clients made after they were mistreated are tainted evidence because they were obtained under coercion.
Questions will also be raised over what they said to FBI interrogators when they arrived at Guantanamo in 2006, years after their capture, and read their rights.
The spotlight will also be on their declarations to the military tribunals at the US naval base in Guantanamo Bay, Cuba, especially in the case of Ramzi Binalshibh, who his lawyer says suffers from severe mental problems.
Such difficulties mean it could be years before the trial opens.
"We can't gloss over the question of torture and enhanced interrogation... but on the other hand we can't be afraid of our own laws," said former military prosecutor John Hutson.
"These are going to be hard cases and hard fought."
If the men are convicted, all attenuating circumstances will come into play as concerns sentencing.
But some of the five men have expressed a clear wish to die as martyrs.
Should they win the right to represent themselves in court, they may refuse to present any evidence that could act in their favor in a bid to be sentenced to death.